A 48Wh (4,400mAh) battery slots neatly into the chassis – a larger capacity battery would be nice, but it's unlikely you'll be taking this 3.3kg laptop on the road that much. With the 17.3in screen and Core i3 processor placing heavy demands on the battery, it's no surprise that the EasyNote LM only managed 85 minutes in our PCMark Vantage loop test.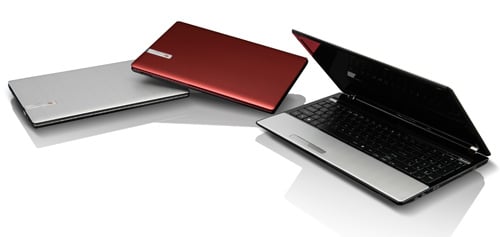 Budget desktop replacement, with a build quality to match
As for the competition, most other 17in Core i3 desktop replacements come in at around the same price. I did, however, spot HP's 17in G72-110SA for £499 on the PC World website. This is almost identical to the EasyNote LM in terms of specs, so if you're after a cheap desktop replacement it's probably worth checking that one out as well – beware, though, it appears to only have 802.11b/g wireless.
Verdict
The EasyNote LM ticks all the right boxes in terms of a budget desktop replacement, but there were a few things that soured my experience with it. The dodgy screen hinge covers were disappointing, while the keyboard and touchpad buttons could have been better. I'd also like to see a higher resolution screen, but that would no doubt push the price up. Overall, it's a fairly average desktop replacement, at a fairly average price. ®
More Notebook Reviews...

Apple
MacBook Pro 15in
Acer
Timeline X
4820TG
Dell
Studio 17
Toshiba
Satellite
U500

Packard Bell EasyNote LM 17in laptop
Budget 17.3in desktop replacement with a Core i3-330M processor
COMMENTS
I have been there...
it was in Great Yarmouth (it i would imagine its gone now - at least i bloody hope so)
Ah the Bell problem!
The screen has always been a problem for PB's. A few years ago I bought some 17inchs (going cheap at about £250 each) for family use. First thing to go at 12 months was the keyboard - loose keys, the next was the screen - lots of lovely verticle lines. At the end of 2 years most were unusable - but the price point and return was good.
Hmmm...and dare I admit that I'm sitting here in my conservatory (off today and the sun is shining), using the last one to type this - with an old monitor and keyboard attched.
'a true cinematic experience'
All Packard Bell have got to do now is find an actual cinema with a only a 17" screen and a pair of crap speakers to its name and Trading Standards can go back to sleep then.....