The Core i3-330M CPU that drives the laptop sits near the bottom of Intel's latest processor line up. It's a dual-core model running at 2.13GHz, but it doesn't feature Intel's clock speed-enhancing Turbo Boost technology – that's reserved for the i5 and i7 chips.
Benchmark Tests
PCMark Vantage Results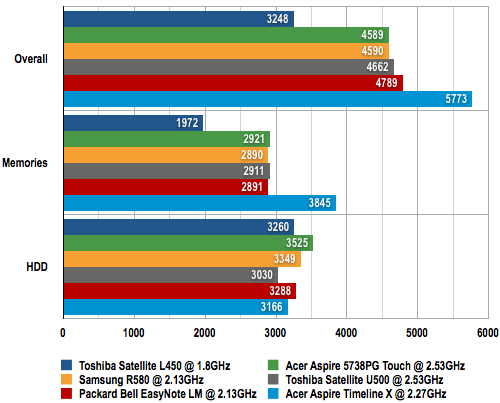 Longer bars are better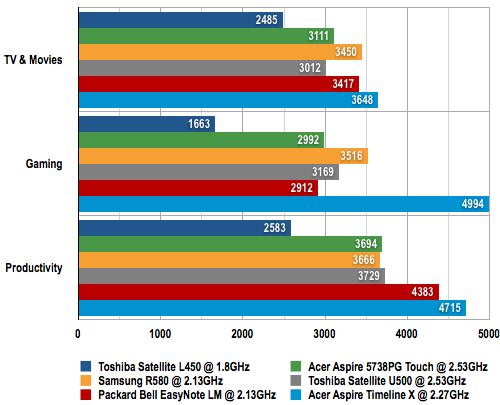 Longer bars are better
Battery Life Results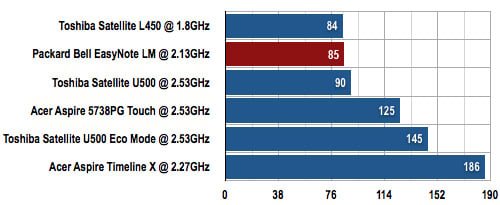 Battery life in minutes
Longer bars are better
Still, with 3GB of DDR3 memory, it trotted its way through the PCMark Vantage suite with an overall score of 4789. 3DMark Vantage turned its nose up at the EasyNote LM, but I did manage to get some old-fashioned 3DMark06 scores out of it – 1448 at 1280 x 800 and 1244 at the native 1600 x 900, to be precise
COMMENTS
I have been there...
it was in Great Yarmouth (it i would imagine its gone now - at least i bloody hope so)
Ah the Bell problem!
The screen has always been a problem for PB's. A few years ago I bought some 17inchs (going cheap at about £250 each) for family use. First thing to go at 12 months was the keyboard - loose keys, the next was the screen - lots of lovely verticle lines. At the end of 2 years most were unusable - but the price point and return was good.
Hmmm...and dare I admit that I'm sitting here in my conservatory (off today and the sun is shining), using the last one to type this - with an old monitor and keyboard attched.
'a true cinematic experience'
All Packard Bell have got to do now is find an actual cinema with a only a 17" screen and a pair of crap speakers to its name and Trading Standards can go back to sleep then.....