Packard Bell EasyNote LM 17in laptop
Big screen for small pockets
Review Back in May I reviewed Packard Bell's dot S2 netbook and was disappointed to find it was little more than a Aspire One 532h rebranded from parent company Acer. I was therefore pleased to see the new EasyNote LM looks totally unlike any of Acer's 17in Aspires and Timelines.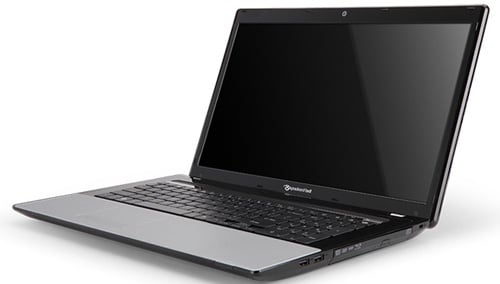 Packard Bell's EasyNote LM: nothing like an Acer
Various versions of the EasyNote LM are available. This one is the LM86-GN-005UK, which is the lowest-specified model and has a Core i3 processor, 3GB DDR3 memory, 320GB hard drive and Intel GMA HD graphics.
Part with an extra £100 and you can get your hands on the LM86-JN-009UK – this sticks with the same processor, but adds an extra gigabyte of memory, doubles the hard drive capacity and is more gamer-friendly with a Radeon HD5470. There's also a Core i5-driven LM86-JN-010UK model, but at the time of writing I couldn't find this on sale anywhere in the UK.
A fairly restrained wavy lined pattern adorns the lid and wrist rest, but apart from that it's a pretty bog-standard design. Red, silver, white and black are your colours choices. With plenty of space to stretch out, the low-profile keyboard features decent-sized keys along with a numeric keypad. The keys feel a bit spongy when depressed and it's not the nicest to type on, but then again I've never been a huge fan of low-profile keyboards.
Taking the form of a single rocker-bar, the left and right buttons below the touchpad aren't great. As with the keys on the keyboard, they feel spongy and could do with a bit more travel. Using two individual buttons instead of a rocker-bar would also be preferable.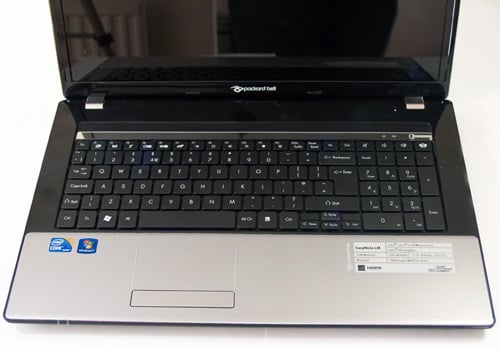 Full-size keys, but it's not the nicest to type on
Packard Bell markets the EasyNote LM as providing 'a true cinematic experience', but I wasn't surprised to find the speakers a little lacking. They'll fill a small room, but distortion creeps in at high volume and bass is non-existent.
COMMENTS
I have been there...
it was in Great Yarmouth (it i would imagine its gone now - at least i bloody hope so)
Ah the Bell problem!
The screen has always been a problem for PB's. A few years ago I bought some 17inchs (going cheap at about £250 each) for family use. First thing to go at 12 months was the keyboard - loose keys, the next was the screen - lots of lovely verticle lines. At the end of 2 years most were unusable - but the price point and return was good.
Hmmm...and dare I admit that I'm sitting here in my conservatory (off today and the sun is shining), using the last one to type this - with an old monitor and keyboard attched.
'a true cinematic experience'
All Packard Bell have got to do now is find an actual cinema with a only a 17" screen and a pair of crap speakers to its name and Trading Standards can go back to sleep then.....