WTF is... Project Canvas?
A good thing, we say
On the content side, again, access to the Canvas guide has to be fair and non-discriminatory, with minimal entry controls, helping to allay fears that the major broadcasters will try to keep new entrants off the system.
What's wrong?
Not everyone's happy with Canvas, of course. Some of the TV manufacturers would much rather do deals with content providers themselves, the better to differentiate their products from their rivals'.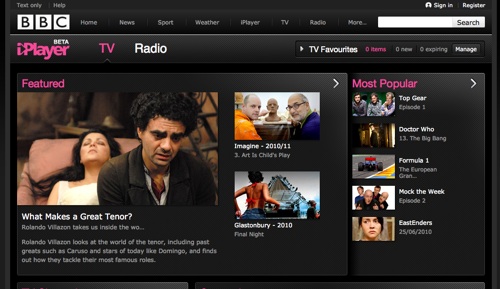 BBC iPlayer will be a key Canvas component
Companies like Sky see it as another example of the BBC doing something that could best be done by the market, citing growing availability of its own SkyPlayer as proof that a system like Canvas isn't really needed.
Reg Hardware isn't convinced by that argument. Common standards do work for the common good, on the whole, and with the might of all the major public broadcasters behind it, Canvas will surely help drive usage of on-demand TV. It may encourage ISPs to up their game, too, if they want to be able to claim compatibility.
Still, that won't stop the Virgin Media, for one, which has said it is planning to challenge the BBC Trust's decision - if necessary, in the courts. Sky may yet announce plans to do the same.
Surely, though, it would make more sense for them to expend these resources building apps they can use to sell their commercial service through the Canvas front end?
No date has yet been set for Canvas' formal launch. Its first specifications will be published in the next few weeks, and the BBC Trust decision requires them to be substantially complete within eight months of the launch date, making it likely that the first boxes should appear around Easter 2011 – incidentally around the time that Freeview HD equipment will have to include mandatory surround-sound transcoding. ®