Oracle refreshes Sun Xeon server lineup
AMD not invited to the party
The Xeon 5600 Refresh
On the two-socket server front, Oracle has not just eliminated the Opteron processors from the Sun Fire lineup, but has also simplified the Sun product line a bit. The new Sun Fire X4270 M2 server is a tweaked version of the prior X4270 and X4275 machines; it's offered in two flavors: one with a dozen 3.5-inch SATA disks and another with 24 2.5-inch disks crammed into a 2U chassis.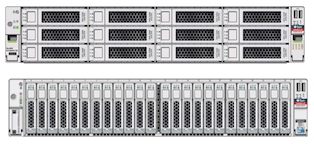 Oracle's Sun Fire X4270 server, in two disk flavors
The X4270 M2 is based on Intel's current six-core Xeon 5600s and has the same memory capacity as its predecessors, at 18 memory slots and 144GB maximum using 8GB DDR3 memory. What's new with this X4270 M2 is that the I/O expansion in the box comes by way of six PCI Express 2.0 low-profile x8 slots, but two of these slots can be yanked out of the box and replaced with a dual 2.5-inch SATA disk cage so the operating system can be installed on mirrored disks in the back of the unit. That leaves the front-mounted disks available for data and applications, isolated from the OS. Customers can use SAS or SATA disks or SSDs in the front-mounted disk bays.
The X4270 M2 has four Gigabit Ethernet ports. It supports Oracle Solaris 10 Update 8, Oracle Enterprise Linux 5.4, and Oracle VM 2.2.1; Windows Server 2008 and Windows Server 2008 R2 can run on the box, as can SLES 10 SP3 and SLES 11, RHEL 5.4, and ESX Server and ESXi 4.0 Update 1.
The Sun Fire X4170 M2 is a refresh of Sun's original X4170 server. The 1U rack-based machine uses the same motherboard as is used in the X4270 M2 above, but only three PCI Express 2.0 slots are available and only a maximum of eight 2.5-inch disks can go into the box because of its smaller form factor. If you slap in a DVD drive, you lose two disks, just as in the prior Sun design.

Oracle's Sun Fire X4170 M2
The X4170 M2 uses 95 watt power supplies instead of the 130-watt supplies used in the X4270 M2. You have the standard Sun four Gigabit Ethernet ports on this box.
Oracle also said today that it had updated its entry-level cheapo X2270 with an M2 box and the Xeon 5600 processors, but El Reg readers know that Oracle actually snuck out this X2270 M2 out back in May, at the same time it put a Netra carrier-grade blade server into the field for telecom and service provider customers. The feeds and speeds of this machine did not change; Oracle just added the newer CPUs. The Sun Fire X2270 M2 is a two-socket box and tops out at 96GB of main memory in its dozen memory slots.
Sun has also updated its X6270 blade server with an M2, plunking in the Xeon 5600 processors and keeping the memory the same: 18 slots, a maximum of 144GB using 8GB DDR3 sticks.
One change with the X6270 M2 blade is that SAS-2 disks can now be used in the blade; up to four 2.5-inch SAS drives can be hot-plugged into this full-height blade that slides into the Sun Blade 6000 chassis. Oracle is also adding a storage blade that packs eight 2.5-inch SAS blades into a full-height blade, which can be lashed to the X6270 M2 blade or any other blade that supports SAS-2 links as additional local storage. It supports multipathing between the blades and the storage for redundancy and resiliency.
As with the Xeon 7500 machines, pricing on the Xeon 5600 boxes and their availability was not divulged by Oracle — the company only talks about what it wants, when it wants. It doesn't answer questions.
Finally, Oracle announced two switches as part of its Sun Fire clustered systems announcement today. The Sun Blade Virtualized Multi-Fabric 10 GE M2 network expansion module tweaks the existing module by adding a private mode that allows blades within the Sun Blade 6000 chassis to speak to each other privately. This NEM has a passthrough to 10 Gigabit Ethernet uplinks that reach out beyond the chassis, and also functions as a SAS-2 fabric extender for storage modules in the blade chassis.
The Sun Blade 6000 Ethernet Switch NEM is a new 24-port 10 Gigabit Ethernet switch that provides non-blocking Layer 2/3 switching between blades with latency as low as 300 nanoseconds and 280GB/sec of bi-directional uplink bandwidth available for the Oracle blade servers linked to it. ®
Sponsored: Minds Mastering Machines - Call for papers now open