Iomega Prestige Portable 1TB
Heavy metal storage
Apple owners get EMC Retrospect Express, as do the other folk, who also get Retrospect Express HD and Iomega QuikProtect. I couldn't try the latter - it only runs on 32-bit operating systems, but Express HD is a competent if old-looking back-up tool. The non-HD version of Express gives you more control over the back-up process, if you need it. They're all free, so there's no barrier to trying them one after the other and seeing which you prefer.
CrystalDiskMark 3.0 Results
Sequential and 512KB Random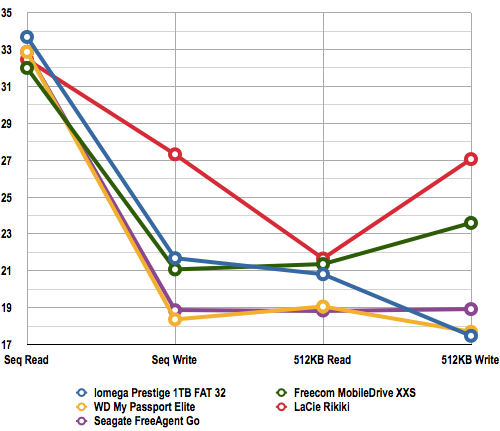 Speeds in Megabytes per Second (MB/s)
Higher points are better
4KB Random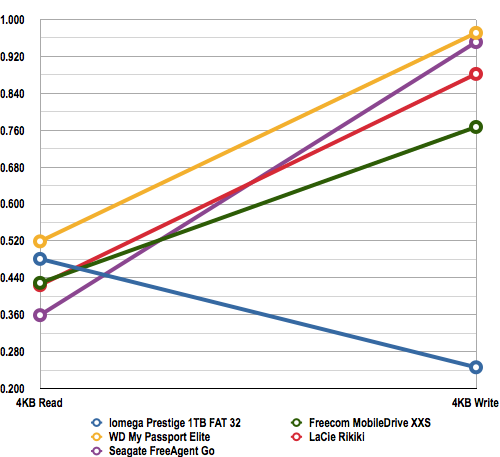 Speeds in Megabytes per Second (MB/s)
Higher points are better
Iomega bundles a cable with the drive itself, and it's a double-headed cord should you need the extra power a second USB port can provide.
As usual, I tested the drive using CrystalDiskMark 3 with a 1GB file size. I reformatted the Prestige to the FAT 32 file system - it ships as an NTFS device. The Iomega performed reasonably well when compared to a selection of 500GB portable drives, though its random write characteristics fell behind most of the others.
The Prestige is priced at around £130 - which is par for the course when it comes to 1TB 2.5in external hard drives.
Verdict
With a peer-matching performance, and a similarly average price and software package, Iomega's Prestige Portable can really only be judged on its looks. And it's a good-looking hard drive - but more a discreet desktop unit than a go-anywhere compact file store. ®

Iomega Prestige Portable 1TB
High-capacity metal-clad external USB 2.0 hard drive.