Vauxhall Ampera extended range e-car
Behind the wheel of GM's green mobile
The Ampera is a bit of a looker too. In an era of increasingly similar designs - the new Astra could just as easily be a Hyundai or a Mazda if you removed the badges - the Ampera, with its boomerang headlamp clusters, high rear shoulders and sculpted flanks, stands out from the crowd and, for my money, is more handsome than it's Chevrolet Volt brother.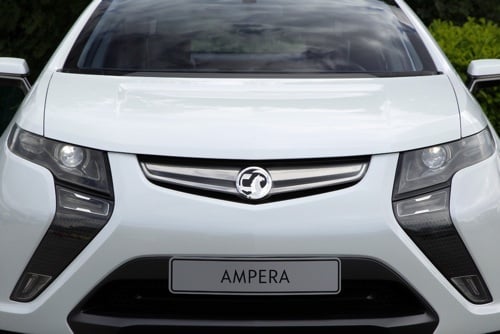 Left-hand drive Opel Amperas for continental Europe and, later, right-hand drive Vauxhalls for the British market will initially all be built in North America which at least means Blighty will see the Ampera in early 2012.
Ellesmere Port plant manager Tony Francavilla stressed that the Ampera will be sold as a regular line model and pitched as a true mass-market proposition. So there won't, for instance, be special Ampera dealers: buyers will just pick one up from their local Vauxhall dealer as they would an Astra or Insignia.
Nothing was said about pricing, though the cost to the consumer will depend on whether the new government honours the Brown government's pledge of a £5000 rebate on e-cars.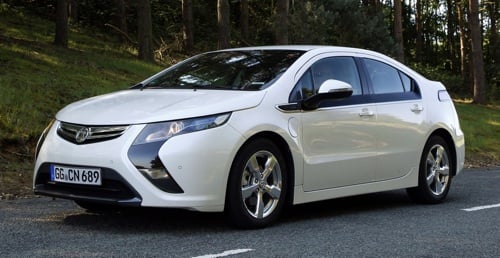 Issues such as the length of warranty on the battery pack will be finalised closer to launch and it will be interesting to see what the Ampera's fuel economy numbers are when it is being driven in range extender mode. If Vauxhall kept tabs on that on the trip from Luton to Ellesmere Port, it wasn't telling the press.
Verdict
If the price is right, and if my experiences behind the wheel are anything to go by, I'd say GM has a winner on its hands with the Ampera. The combination of a stylish five-door with full EV capability but no worries about running out of juice down the road should appeal to many potential buyers with an eye on economy and the tail pipe emissions. ®
E-Car Reviews

Honda
CR-Z
Toyota
Prius
4G
Honda
Insight
Mitsubishi
iMiEV
Sponsored: RAID: End of an era?