Vauxhall Ampera extended range e-car
Behind the wheel of GM's green mobile
This means that the very subdued engine note stays the same no matter how hard you mash the throttle. It's a bit like driving a CVT automatic with a very quite and very refined engine, and with a huge amount of instant torque - 273lb ft (370Nm) to be exact - on tap.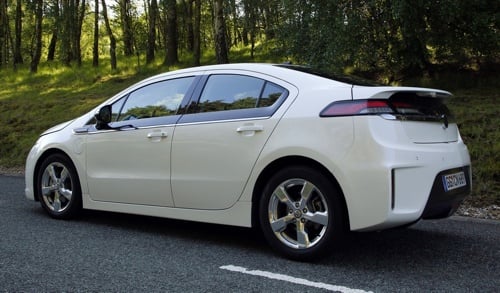 A 30-minute spin around Ellesmere Port in a left-hand drive test car that's been well used - he said politely - and with a Vauxhall tech hovering in the back seat to make sure I didn't hit the large red Emergency Stop button - not a feature of the finished car, apparently - is hardly ideal for a road test but I came away impressed.
Even with the petrol engine running, the Ampera was refined, quiet and very spirited. I'm can't confirm Vauxhall's claims of 0-60 in 8.5 seconds, or a top speed of 100mph, but you won't find as much low-speed urgency this side of a very good 2.0 litre turbo diesel. And even the very best diesels still sound like, well, diesels.
I'm not sure if the test car had suspension tuned for European rather than North American tastes, but if not General Motors has done a fine job with the ride and handling. The car showed no signs of the expected American wallow and felt tight, balanced and composed no matter how deliberately ham-fisted I tried to be.
In fact, it handles much like a Chevrolet Cruze with which it shares the same GM Delta II platform, as does the new Astra. The T-shaped battery pack built into the floor plan apparently significantly lowers the Ampera's centre of gravity compared to other cars in the same size class which can only help handling.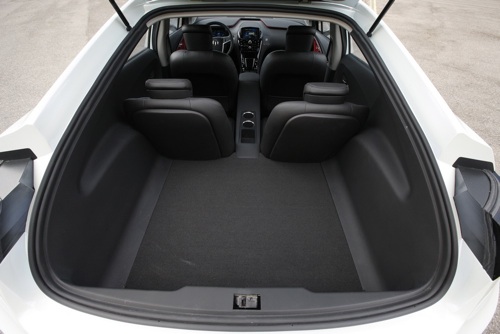 The interior is a pretty decent place to spend time even allowing for the slightly crumby pre-production plastics on display on the doors. The sporty semi-bucket seats hold you firmly in a low-slung driving position, and the trick LED instrument binnacle worked a treat even in strong sunlight. Being an automatic, Ampera gets going when you hit a start/stop button and push the big pedal.
Sponsored: Minds Mastering Machines - Call for papers now open