Sony Bravia KDL-HX803
Future proof
Review Sony is entering the 3D market this month with the HX803, which is available in both 40in and 46in versions. I took a look at the 40in model, which costs around £1800, although Sony is planning to release a number of additional models during the summer, going up to £3500 for the 60in, top-of-the-range LX903.
Sony describes the HX803 as "3D-capable", which means that – like the similarly priced Samsung UE40C7000 – it doesn't come bundled with any 3D glasses. It's only the high-end LX903 model that includes the glasses as standard.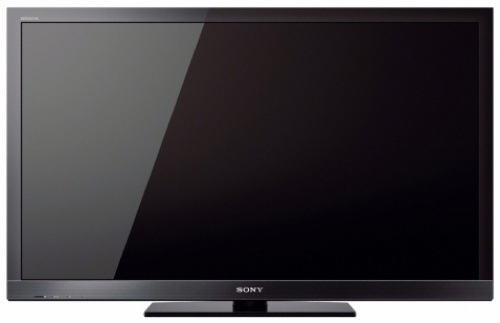 Even worse, the HX803 doesn't even include the transmitter that you need to sync the glasses with the alternating left/right images on the screen. So in addition to paying about £100 per pair for the glasses, you'll also have to cough up another £50 for the transmitter as well - talk about adding insult to injury.
The design of the set is fairly non-descript: rectangular black plastic paneling set atop a rectangular black stand. However, I do have to admit that the 3D image is very good, creating a real sense of depth, assisted by the bright LED backlighting and 200Hz motion interpolation tech that produces smooth, high-speed movement.
The HX803 is also stuffed to the gills with additional features, including a Freeview HD tuner and internet connectivity to sites such as YouTube and Channel Five's catch-up service.
Verdict
Sony's HX803 is certainly an attractive set - and it's 3D presentation is particularly impressive - but it's annoying that you have to pay extra for both the glasses and the transmitter. ®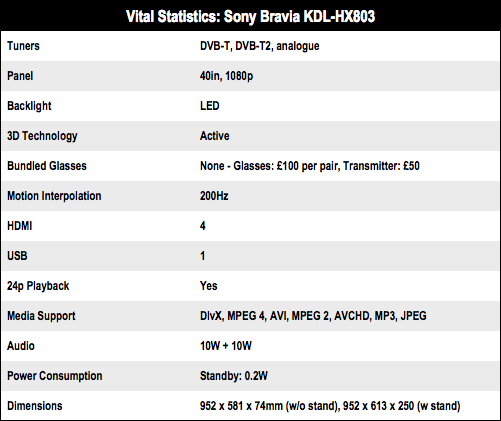 Next: 3D TV Best Buys
Sponsored: Minds Mastering Machines - Call for papers now open

Sony Bravia KDL-HX803
Very nice 3D TV with a great 3D capability.