LG 47LD950
The passive approach
Review LG is the only manufacturer to release a 'passive' 3D TV that uses inexpensive polarised glasses, rather than the costly active-shutter specs used by all its rivals - although it is planning to release a number of active-shutter TVs as well, including the super-slimline LX9900 that I was also able to see recently.
Currently only available in a 47in version, the LD950 includes four sets of glasses to get you started, but the glasses are so cheap that you could probably buy half a dozen extra pairs for your friends for about a tenner.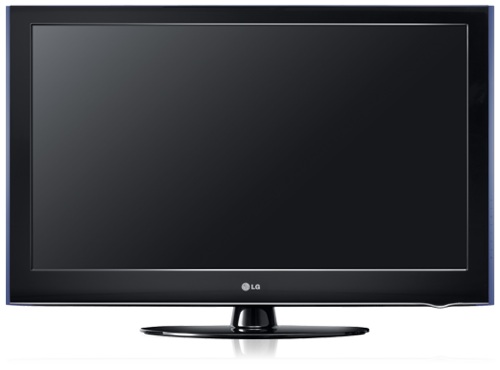 The 3D image is very good – it's of a lower resolution than its active-shutter rivals, but you probably won't notice the difference unless you've got very good eyesight and you're looking carefully.
However, the disadvantage of the passive technology is the need to coat the LCD display with a special polarising layer in order to create the 3D image. This adds to the up-front cost of the set and means that you're paying quite a lot for what is otherwise a conventional LCD television.
For instance, the LD950 doesn't have LED backlighting, and I found it to be less bright than its LX9900 stablemate. The 20W speakers aren't exactly going to rattle your rafters, either.
However, the minimal cost of the glasses means that the LD950 is far and away the most affordable option if you sign up to Sky's forthcoming 3D channel and want to invite some friends round for a spot of 3D footie - or if you're worried about your kids damaging the glasses.
Verdict
LG's passive 3D TV is really only a modest 2D TV, but the cheaper glasses make it is the most affordable option for getting into 3D - and for presenting 3D content to a large number of friends and family at one sitting. ®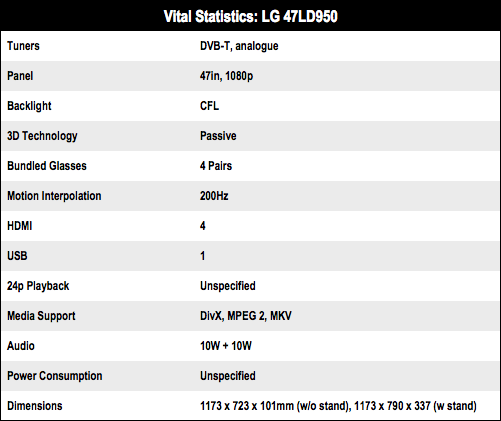 Next: LG 47LX9900
Sponsored: Minds Mastering Machines - Call for papers now open

LG 47LD950
The country's only passive 3D TV.