Dell Streak Android tablet phone
Mistaken identity?
For music it can handle MP3, WMA, eAAC+ and WAV and the player offers a UI that's been slightly tweaked from the functional Android original, though not by much. Music sounds okay through the supplied earphones, which feature noise-isolating grommets. Getting media onto the Streak is simple enough, but there's no dedicated syncing software, just drag and drop, and there's 2GB internal memory that's actually on a micro SD card, so if you're handy with a screwdriver... Alternatively, you can add up to 32GB using the easier, user-accessible, micro SD card slot.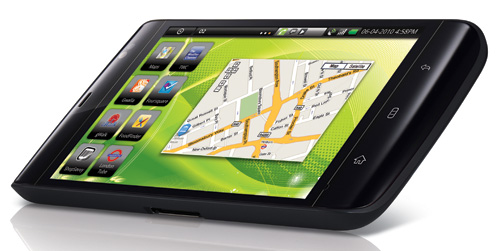 Upgradeable to Android 2.2, but nobody's letting on as to when
There are currently over 40,000 apps on Android Marketplace, way behind Apple's 200,000, but most of the important stuff's there, though not all of it will be compatible with the Streak. A case in point is that, as it stands, you can't access BBC iPlayer using the Streak. With no official app available, and beebPlayer now removed – as its creator felt it had been superseded by Android 2.2 with its Flash 10 capability – for now, a prime client for the Streak's extensive screen is out of bounds.
Battery life is an issue with all smartphones of course, but especially for those with big screens. Admittedly, I did give it a bit of a hammering over the course of a day, it didn't quite make it all the way to tea time. While there are various ways to save on battery life – such as dimming the screen and discontinuing automatic email updates and suchlike – you can still expect to have to charge it each and every day.
Verdict
The Dell Streak is not, repeat not, a rival to Apple's iPad, despite what some have inferred. What it is, is a very clever outsize Android smart phone with a terrific multi-touch screen. No, it's not big enough to do any serious work on, but it's certainly big enough to read an online newspaper with ease or even ebooks at a pinch. It's fast, well loaded with features, and while we'd have preferred Android 2.2 rather than 1.6, an upgrade should be available later in the year. Not everyone will go for the size, poised awkwardly between phone and tablet, but it will still fit in the pocket, and offers a definite upgrade on the usual viewing and reading experience. ®
More Android Smartphone Reviews...

HTC
Desire
Sony Ericsson
Xperia X10
Google
Nexus One
Motorola
Milestone
Sponsored: Minds Mastering Machines - Call for papers now open

Dell Streak Android tablet phone
Not so much a small tablet, but a big Android smartphone.