Dyson Air Multiplier desktop cooler
Fan-boys' delight?
Utilising physics to multiply airflow, the Dyson is greener than I expected and consumes a little less power than my regular desk fan: 24W to 36W, according to the Reg Hardware meter.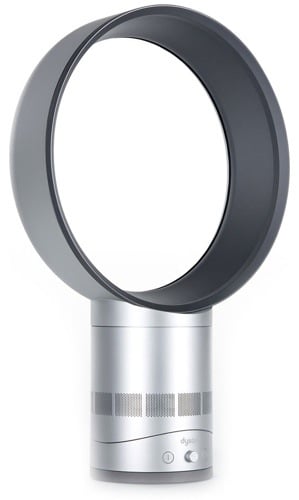 Curved air
The speed isn't confined either, making energy cutbacks easier. While traditional desk fans come with fixed speed settings, the Dyson has a smooth dial control for airflow which enables an output of almost unnoticeable - but still cooling - amounts. It works wonders at such a level and for those looking for a subtle breeze to take the edge off things, it's perfect.
When the output is increased, the sound quickly becomes irritating, though. While not particularly louder in decibelage than a regular fan, the frequency is higher which makes a huge difference on the ears. In an environment with other noise, this becomes irrelevant, but for me, any equivalent output greater than the low setting on my standard fan was unbearable.
Verdict
I like the Air Multiplier but it falls seriously short of respectable marks when you consider the price tag: £200 is a lot to ask for a desk fan, to say the least.
Paying more for a Dyson vacuum is understandable - the difference in price is a fair reflection of the difference in product. However, it's hard to see why one should fork out ten times the cost of a regular fan for this.
Aesthetically, it's miles ahead of a traditional fan. Feature wise it's one of the best I've used. While the higher pitched output is annoying, the biggest thing letting this bad boy down is the price. ®
More Gadget Reviews

Cideko
Air
Keyboard
Samsung
NaviBot
cleaner
Livescribe
Pulse
Smartpen
SWaP
Signature
watchphone

Dyson Air Multiplier desktop cooler
Innovative reduced-power desktop fan with a sleek, fresh design.