Dyson Air Multiplier desktop cooler
Fan-boys' delight?
Dyson is slightly deceptive with its marketing, claiming the fan has "no blades". This is like hiding the wheels of a car behind a low body and claiming it hovers. There are blades - you just can't see them. They function further back on the production line and push air through filters, into the loop "amplifier". This results in a consistent flow of air rather than the blast after blast buffeting produced by traditional fan blades.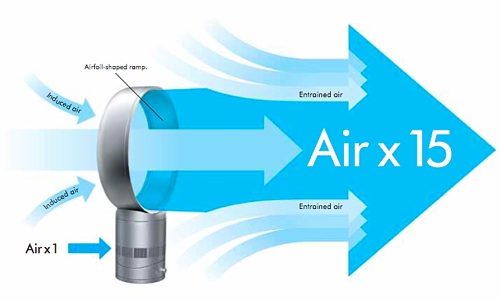 The science bit: air amplification, Dyson style
While in theory this sounds an improvement, I actually found it made the experience oddly artificial. I prefer the in-yer-face feeling of a wind turbine - this is more like an aircon. The airflow is more uniform from a distance, but when you're up close, it's like you're in some breezy vortex tunnel of wind. This donut of air is obviously larger with the 12in version I reviewed and would be interesting to compare to others. There's a 10in version for the same price and larger oblong shaped tower fans that cost an extra hundred.
The way air is multiplied is the biggest innovation here. So how exactly does it work? After being drawn into the base of the machine, air is pushed - using the hidden blades - into the loop and accelerated through a 1.3mm slot running the length of the ring's inner circumference. The jet this produces pulls air in from behind the fan as other air from the front and sides are forced in too, amplifying the original flow 15 times. Or something...