Nokia seeks distant parents to test Story Visit
A demographic that wants video calling?
Nokia is looking for parents interested in testing its Story Visit service, which aims to enable parents separated by distance to share the reading experience with their kids.
We might not want to make video calls from our mobile phones, but parents do seem to like seeing their kids as well as just talking to them. Now Nokia is looking for parents who'd like to take that a stage further with Story Visit – the networked book at bedtime.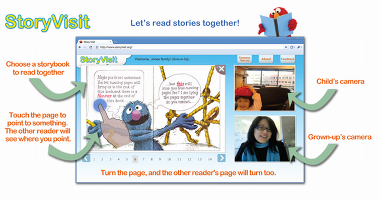 The service comes out of Nokia Beta Labs, and given the involvement of Sesame Street we're assuming it's born of the Calling All Innovators competition. The project is looking for parents of children between two and five who are prepared to test the system and fill in a questionnaire about the experience.
Video calling already means that travelling parents don't have to suffer the one-word answers punctuated by truculent silence that make up a toddler's phone manner. Instead they can get prompted waving and (if lucky) the occasional smile, but sharing a book is a nice idea, and it will be interesting to see what Nokia learns from the trial, and if that feeds back into the company's mobile portfolio. ®
Sponsored: RAID: End of an era?