Video calling impresses Brits, if it's Apple video calling
FaceTime, after all this time
More than three quarters of Brits surveyed said that video calling was the most impressive part of the new iPhone, once it had been branded FaceTime.
Despite having been available on mobile phones for almost a decade, being the killer feature by which 3G telephones were promoted and been free (over Wi-Fi) for the last couple of months, video calling is getting a new lease of life now that Apple has backed it.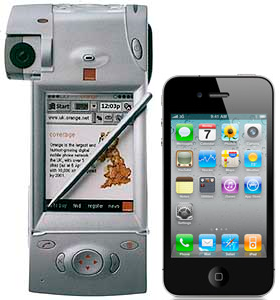 The one on the left was £1300 in 2001, the one on the right is considerably cheaper, and prettier too
The survey, which saw rightmobilephone.co.uk asking just over two thousand Brits what they liked about the iPhone 4, FaceTime came in top at 76 per cent, with the equally-hyped "Retina Display" being a close second at 69 per cent. But the interest in video calling is the real surprise given that we've had it for so long already.
Tech blog Gizmodo even published a call for everyone else to adopt Apple's FaceTime protocol in the interest of interoperability, following the best tradition of blithely ignoring all that went before.
Back when your correspondent was trying to get customers to make video calls we believed that presence was the key. If a user could look up a contact and see if they were in a position to receive a video call, before connecting, then perhaps (just perhaps) that user would click on the video button. But setting that up required information from the network, and the handset, which never got integrated properly despite impressive demonstrations.
FaceTime doesn't require that level of integration. The handset knows if it has a Wi-Fi connection (the only one over which FaceTime will operate), and both users need to already be engaged in a voice call to start using FaceTime, so technically it could work.
But video calling has never been a technical problem – the problem is that most callers either don't want video, or don't need it. We're not used to being seen while on the phone, so we won't adapt without a significant pay off.
Brits might be impressed with a demonstration of FaceTime video calling, but it's worth remembering that they were equally impressed by video calling over 3G networks, and by WAP, until they tried these things for themselves. ®
COMMENTS
Hahaha
"real innovation"
That's pretty funny.
This is pretty much a standard feature and has been for years on Nokia phones. Facetime is a carbon copy of existing video calling only it doesn't work without WiFi.
This is in fact another case of Apple bringing out a standard feature well behind the pack and loyal fans bigging it up out of proportion.
I don't think even Apple themselves would have the balls to claim what you just did.
yawn
oh look I have skype + video calling on my n900... where exactly is the innovation here? Ah that's right, Apple don't innovate, they market.
Only on iPhone...
It infuriates me that Apple can get away with making their "unique selling points" out of something that has been around for years, and something that is readily available on other handsets. It's not just the videocalling feature that Orange and Hutchinson 3G have been offering for a decade, their "apps for just about anything, /only/ on iPhone" adverts are simply lies. Ovi, Maemo and Android offer apps for exactly the same amount of "just about everything", if not less of the useless crap that's clogging the Apple store. What's more is most of them are free on Apple's competitors market places are Free!
I hate Apple and their trend following fanboys.
…Rant over.
I just can't see it
What next - iFax?
Video calling is dead technology for a reason - nobody wanted it, it was impractical and looked crappy. Okay, three reasons.
Also - WiFi to WiFi only?
Ring ring.
Hello?
Hi - are you near a WiFi hotspot?
Err, hang on a minute, yeah - why?
I want to video call you.
Oh. Err, why?
So you can see me.
* hangs up *
Obviously..
We can assume you're leaving?
Bye, don't remember to write.
Twit.