There's 2GB of memory on board which you can augment with up to 32GB with a micro SD card, though there's none supplied as standard. Battery life wasn't terrible but neither was it especially good, delivering just over a day of fairly heavy use.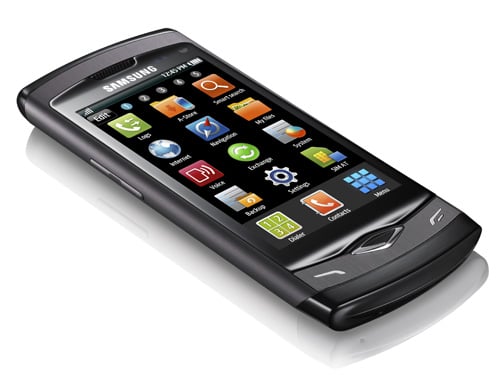 Bada's first outing is encouraging, but there's room for improvement
Verdict
The Samsung Wave marks a line in the sand for Samsung with the debut of its Bada operating system. It's a quality handset with a terrific AMOLED multi-touch screen, fast operation, a decent camera and access to Samsung's small but growing App store. There are a few niggles to be sorted out, like home pages that you can add but not remove, the inability to add shortcuts to home pages, and the social networking system needs a bit of work to put it up there with the best. Still, it's generally easy and intuitive to use, and packs in as many features as you could wish for. For Samsung's first dip in the Bada waters, it shows a lot of promise. ®
More Phone Reviews…

HTC
HD mini
Sony Ericsson
Xperia X10
HTC
Desire
NokiA
X6

Samsung Wave smartphone
Capable handset with a nifty new operating system to rival the likes of Android.
COMMENTS
But..
But.. the point for Samsung is that they were shipping out shedloads of phones with their own OS anyway in addition to all the Android, Symbian and Windows ones that they do.
I think that if you're shipping all those units anyway, opening up the OS and allowing third party developers seems like a no-brainer and pretty low risk approach.
I have actually seen one
My friend got one last week. Forget the £320, that's unlocked. She paid £40 on a not very expensive contract. The 3GS was £200ish on the same contract, so a phone like this is clearly going to help people who don't want to (or can't) spend silly money on a phone.
She doesn't care about app stores. The fact it can run an app at all is a big step up from the usual dumbphones people were buying 18-24 months ago. There is a built in browser, facebook and twitter app, wifi, gps... that's enough for most people to start with.
I don't know about screen tech, but to my eyes, the screen was better than my 3GS. Perhaps I was swayed by the brightness, but everything seems vivid and solid.
It was also responsive, decent camera, flash etc. It made me re-evaluate spending so much on an iphone 4 tbh. Yes, the iphone series might be decent enough phones, but are they worth such a high premium?
Questions
This is a new OS so some more details would be useful. How do you sync it to get your data on there? Is there a desktop sync app? Is it Windows only? How do you backup/restore the phone? How are OS updates covered? Can you apply minor patches OTA or do you have to download everything to a PC and run it from there?
Surely these are the sort of basic things anyone would need to know before considering a phone with a brand new OS?
Bada Bing
So... is the search engine on it by Microsoft thus giving us Bada Bing?
Sorry, someone had to do it...
Adjectivitis
"The large 3.3in Super AMOLED screen promises 16 million colours and is as sharp and clear as you could wish for."
So it's a large 3.3in screen, as opposed to a normal one? Certainly, as opposed to the 3.5-4in screens that are available on other high-end mobiles? (Given that it's 15:9, I'd argue that it's a *small* 3.3in screen, compared with, say, a 480x320 screen with the same diagonal.) Not that there's anything wrong with 800x480, but it's not "large" by any useful measure.
As for "sharp and clear", that seems unlikely. I believe it's a PenTile layout - which for many people is fine, but for some of us is something we'd rather avoid, partly because of the colour speckles and partly because it's *not* as sharp as a WVGA triple-stripe screen.
Jus' the facts, please, not misleading commentary. If every other phone on the market had a 2.5" QVGA screen, these adjectives wouldn't be a problem - but the market has moved on.