There is method in the madness however. In time, Samsung plans to convert all its handsets to Bada, effectively turning them all into potential smart phones. The idea is that they'll all have the capacity to access Samsung's app store, no matter what their price point. It's not a soft launch either, with Samsung claiming that it plans to ship 6 million Bada handsets this year.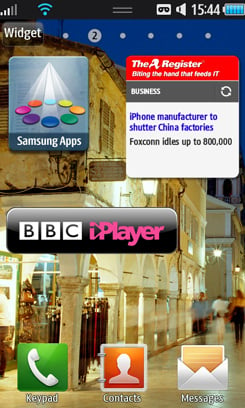 There's even an El Reg widget on offer
Using the Wave, you could be forgiven for not really noticing the new OS, since it's cloaked in Samsung's familiar TouchWiz interface. It's not quite the TouchWiz of old, however, as this is the first handset to feature TouchWiz 3.0, which alters the look and adds some additional features. Widgets now appear in a menu at the bottom of the screen called up from a small button, rather than a flap at the side, and contain more detail and functionality.
There are three home screens that can be adorned with TouchWiz widgets, including one specially made for El Reg – thanks Samsung. If you run out of space, the handset will automatically add another home page, up to a total of ten. Oddly though, if you decide to downsize the amount of widgets you're using, the extra home pages will stay, even if they're blank.
The menu button brings up three pages of apps, which you can add to from the Samsung Apps store. You can arrange them in whatever order you like, which is one up on Windows, but there's no option to add them to the widgets on your various home pages, which seems like a very big trick missed. The interface has a nifty way of notifying you of missed calls and messages too, with a missing jigsaw piece that pulls itself out of your homepage to let you know something's waiting.
There's an Android-style drop-down menu from any page, which shows your Wi-Fi and Bluetooth status as well as notifications. You can set double tap as an option too and bring up a comprehensive search function (or set it for other functions) that allows you to scan the handset or the Internet.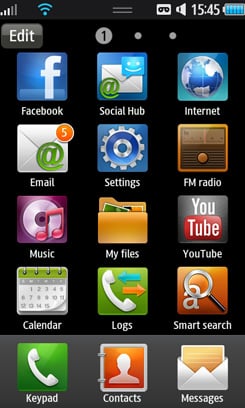 Double tapping brings up shortcuts to bypass navigating the menu listings
Running the show is Samsung's nippy 1GHz Hummingbird processor, assumed to be a close relative of that powering the iPad and iPhone 4, it certainly seems to do the trick. Indeed, I never noticed any serious lag when switching between applications, browsing the web or viewing video.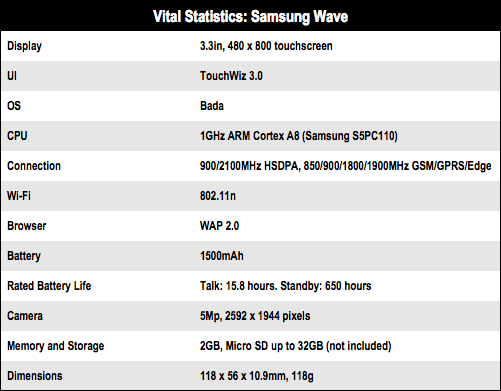 COMMENTS
But..
But.. the point for Samsung is that they were shipping out shedloads of phones with their own OS anyway in addition to all the Android, Symbian and Windows ones that they do.
I think that if you're shipping all those units anyway, opening up the OS and allowing third party developers seems like a no-brainer and pretty low risk approach.
I have actually seen one
My friend got one last week. Forget the £320, that's unlocked. She paid £40 on a not very expensive contract. The 3GS was £200ish on the same contract, so a phone like this is clearly going to help people who don't want to (or can't) spend silly money on a phone.
She doesn't care about app stores. The fact it can run an app at all is a big step up from the usual dumbphones people were buying 18-24 months ago. There is a built in browser, facebook and twitter app, wifi, gps... that's enough for most people to start with.
I don't know about screen tech, but to my eyes, the screen was better than my 3GS. Perhaps I was swayed by the brightness, but everything seems vivid and solid.
It was also responsive, decent camera, flash etc. It made me re-evaluate spending so much on an iphone 4 tbh. Yes, the iphone series might be decent enough phones, but are they worth such a high premium?
Questions
This is a new OS so some more details would be useful. How do you sync it to get your data on there? Is there a desktop sync app? Is it Windows only? How do you backup/restore the phone? How are OS updates covered? Can you apply minor patches OTA or do you have to download everything to a PC and run it from there?
Surely these are the sort of basic things anyone would need to know before considering a phone with a brand new OS?
Bada Bing
So... is the search engine on it by Microsoft thus giving us Bada Bing?
Sorry, someone had to do it...
Adjectivitis
"The large 3.3in Super AMOLED screen promises 16 million colours and is as sharp and clear as you could wish for."
So it's a large 3.3in screen, as opposed to a normal one? Certainly, as opposed to the 3.5-4in screens that are available on other high-end mobiles? (Given that it's 15:9, I'd argue that it's a *small* 3.3in screen, compared with, say, a 480x320 screen with the same diagonal.) Not that there's anything wrong with 800x480, but it's not "large" by any useful measure.
As for "sharp and clear", that seems unlikely. I believe it's a PenTile layout - which for many people is fine, but for some of us is something we'd rather avoid, partly because of the colour speckles and partly because it's *not* as sharp as a WVGA triple-stripe screen.
Jus' the facts, please, not misleading commentary. If every other phone on the market had a 2.5" QVGA screen, these adjectives wouldn't be a problem - but the market has moved on.