dotMobi to win you over with hosted web service
You do remember .mobi don't you?
dotMobi, owner of the underutilised .mobi top-level domain, has launched a we'll-do-everything service, hoping someone will rent space in its dusty corner of the internet.
The new initiative, dubbed "goMobi", is a hosted web service with menu-driven tools for creating device-aware content, providing companies with somewhere to park their ".mobi" domain should they happen to have one.
The problem is that not many companies bother these days: even Google, which helped create the domain, now redirects "www.google.mobi" to a page telling users to go to "m.google.com" instead. That lack of interest leaves dotMobi with a lot of virtual real estate to shift.
The company already provides development tools and hosting, and now it's put them together into a service delivering icon-driven web sites which all look very similar but can be designed and deployed with a few mouse clicks...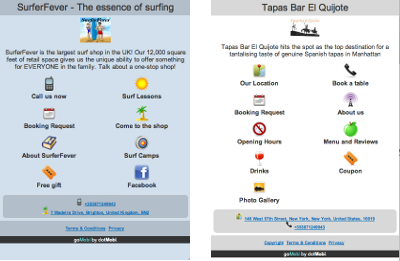 All kinds of grid-layout-icon-driven sites are welcomed
There is something of a resurgence in web-driven mobile services these days: the mobile web has come a long way since Steve Jobs declared native applications were unnecessary on the iPhone (and then hastily backtracked with the launch of the iTunes app store). Steve may have been a little optimistic, but one can do quite a lot with AJAX on a phone these days.
London-based Grapple Mobile makes a living creating AJAX for companies which it then converts to native (for Symbian, Blackberry etc) for delivery as an application. Users value applications these days, and understand the download and execution process.
Grapple has just signed deals with a dozen or so advertising agencies to create content that goes native for reasons of distribution rather than functionality – excepting the iPhone, where such conversion isn't allowed*. In this way the decision to go native is increasingly not a matter of functionality but of realising a revenue stream web-based technologies can't compete with. And that's not a problem that dotMobi is going to solve.
But if the only thing holding you off creating your own ".mobi" site was the complexity of creating and hosting the content, then goMobi might be the solution you're looking for. We're just not convinced there are very many people in that position. ®
* Grapple has been in touch to say the Jobsian moratorium on non-Objective-C applications doesn't apply to them, and they've successfully had JavaScript-developed apps approved.
Sponsored: Minds Mastering Machines - Call for papers now open