Son of Transputer powers new Amiga box
Programmable logic
There was only one place to be for Amiga enthusiasts this weekend: a tent at Bletchley Park. Saturday saw the unveiling of the first dedicated Amiga box for some time, in the shape an unusual and technically advanced system that maintains the Amiga's bleeding edge reputation.
The AmigaOne X1000 is a custom dual core PowerPC board with plenty of modern ports and I/O interfaces. It runs AmigaOS 4, and is supported by Hyperion, a partner in the project. The most interesting bit, though, is the use of an 500Mhz XCore co-processor, which the X1000's hardware designer describes as a descendant of the transputer - once the great hope of British silicon.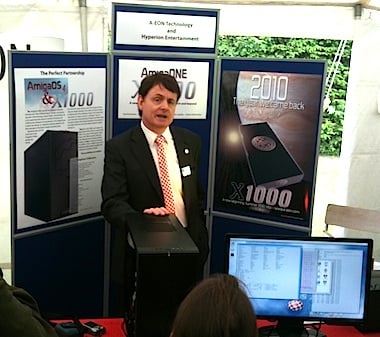 Trevor Dickinson: over 150 Amigas at home
The XCore allows fine-grained parallel processing and the equivalent of 256 loosely coupled cores. At least eight threads are available at any one time.
The Amiga brought multitasking to personal computing, and when it first appeared in 1985 it made the rest of the market, including Apple's much vaunted Macintosh, look like overpriced toys. Commodore made its last Amiga in 1994. Various companies have rolled out PPC boards compatible with AmigaOS, since the last update in 2006, but this is the first new box for some time.
Long-time Amiga enthusiast Trevor Dickinson, director of the company set up to create the X1000, A-Eon, said the team hadn't set a price for the box, but suggested it would be "North of £1,500", hopefully allowing the company to make something to reinvest. The X1000 should future proof the AmigaOS for some time.
The event took place at Britain's first Vintage Computer Fair (report to follow) in a tent sponsored by the Amiga enthusiast groups. These seem to be as busy as ever: the AmigaOS looks terrific, and ports of FireFox and OpenOffice are close to bearing fruit.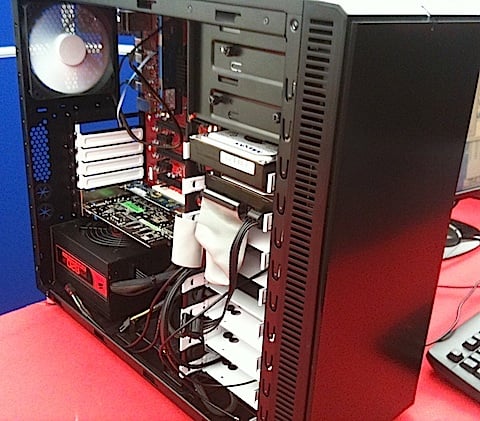 Inside the X1000
The box also houses an ATI Radeon R700 graphics card, 10 USB ports, four PCIe and two PCI slots, besides much else. A recent interview with Dickinson here provides a good history of the project, and more pics. ®
Bootnote
Before you all write in at once, yes - the original Amiga could house a transputer board.
COMMENTS
Amiga X1000 and Amiga OS4.1 in general.
I would like to make an open invitation to anyone who wants to try/see AmigaOS4.1 Update 2 to Attend the next Amiga North Thames Usergroup Meeting (Held in Enfield UK) Anyone with an open mind is welcome (Our website http://www.amiganorththames.co.uk)
To answer a couple of points raised, The Amiga was in the doldrums thanks to decades of mis-management. Since Hyperion won the court case against Amiga inc, the developments have been coming through at a very fast pace. We now have 3 proper web browsers, Java is on the way as is Open office, Flash is not available, and unlikely to mature, but given the fact that HTML 5 is on its way, it may not be that necessary.
Why use AmigaOS4 against, say Windows or Mac? I can't answer that, other than perhaps, its a different, unique experience to the other two. At the end of the day Choice is always good. It helps promote innovation etc. If you are happy with Windows or Mac OSX or Linux, that's fine. No need to knock someone else's hobby. Imagine if the world only had 3 car manufacturers? i.e. Ford, Nissan or VW? Not that there is anything wrong with them, but surely choice is a good thing and I am sure, always welcome.
I hope to see some of you at our next meeting (We don't bite and don't wear anoraks!, on July 11th)
Thank you.
Michael Carrillo
Amiga North Thames Chairman
Organiser "Amiga Area" at VCF 2010
Don't forget...
...the Demo Scene
Tempting.
With Firefox and Openoffice ports thats getting more tempting.
I dearly love the time I spent with my Amiga's, still in the attic but sadly the internal floppy drives are dead on at least two. Internal HD still works on my A1200 though.
Even now I still miss my Amiga, it was an incredible machine in its day, Commodore management really stuffed things up badly and should have got a spanking. Linux is proving to be a reasonable substitute for the tweaker in me but I pine for the day of AmigaOS's serious return.
The elephant in the room is waving frantically.
Couple of points regarding your post.
"Other than allowing excentric hobbyists with a spare £1500 to benchmark how many copies of 25 year old games they can open and run at the same time (Look it's multitasking! Apples & PCs didnt use to be able to do that!), what is a modern Amiga for?"
You don't have to spend £1500 to run Amiga OS4.1. The lower spec SAM boards are capable to give you a good Amiga experience, for around half that. Indeed, If you go for the now defunct earlier AmigaOne models (by Eyetech), a complete AmigaOne XE system (G4) just sold on ebay for £350.
"what is a modern Amiga for? I'm sure the Firefox & Openoffice ports are super, but what can it do so much better than any other current platform that it would make it a rational commercial decision to buy or even to have developed in the first place?"
That depends on your perspective. At the end of the day, Web Browsing or writing a letter is the pretty much the same on one computer as it is on another. Again, I come back to my earlier point. What's the point of buying a Vauxhall or an Audi when a Ford will do exactly the same? Or indeed, what's the point in buying a Toshiba TV when you can get a Sony or Panasonic which will do the same job?
- It comes down to a matter of taste or preference. Each platform has its own unique way of doing things. Its down to the experience for the user. There is no commercial rational behind it.
amigaos for Mac
@Bruno Girin
"does it mean that I could run AmigaOS on my PowerMac G5?"
No it doesn't. They want you to buy their £1500 custom board instead.
MorphOS ( http://www.morphos-team.net/ ) runs on some PowerPC Macs (mini, emac), and does run amiga software out of the box as well. Here's the list of the compatible hardware: http://www.morphos-team.net/hardware.html
And download link for the ISO image: http://www.morphos-team.net/downloads.html