Mio Navman 470 satnav
Economy drive
Navigation technology aside, the 470 is very easy to use. The 480 x 272 resistive screen is crisp and colourful to look at and reacts smartly and accurately to taps, while the UI is both simple and intuitive.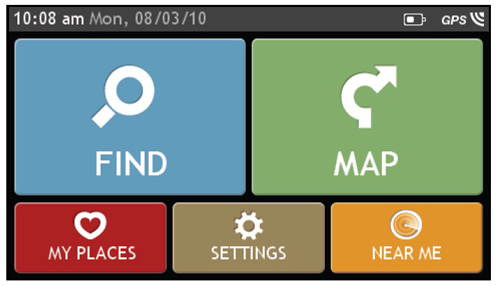 Intuitive options
Particularly useful is the Near Me screen that lets you search for the nearest food, petrol, parking, hotel, ATM or hospital at the touch of a button. However, it did prove oblivious to a branch of Subway less than 500 yards from my home. When looking up points of interest, the QuickSpell predictive keyboard, more often than not, worked out what I was after before I got more than half way through typing the name. All in all, it's one of the simplest satnavs to use that I have encountered.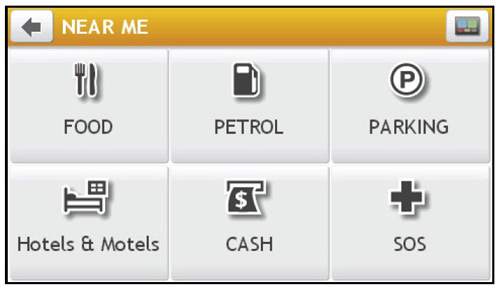 Near Me flags up a choice of local amenities
On the road things continued to impress. The single speaker was loud and clear while TruMaps graphics were commendably simple and easy to read. The map design is more artistically sparse than that used by TomTom and it is a style I prefer. A quick tap on the top right corner of the screen opens up a translucent panel on the right hand side that displays the distance to your destination, current speed, ETA and so forth, without obscuring too much of the map.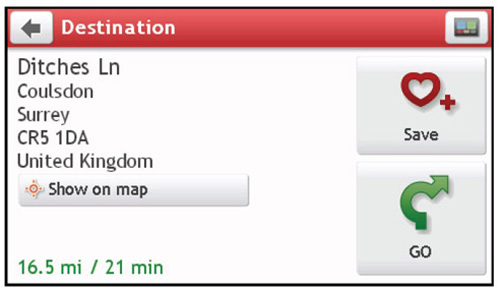 Only single destinations can be configured, not multiple journeys
Vocal guidance was comprehensive, timely and succinct, with road numbers read out as single digits rather than as hundreds and thousands and the accompanying road names also enunciated. Likewise, route recalculation was both swift and unobtrusive. With an eye to keeping your license clean, the 470 comes preloaded with details of safety camera locations and can be set to issue warnings if you exceed the speed limit. UK camera site updates are free for 12 months, but after that will cost around £18 a year.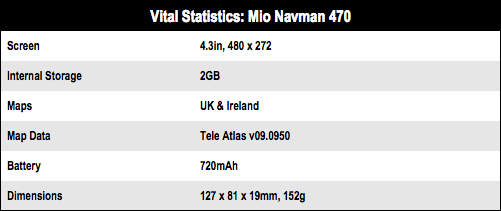 Sponsored: Minds Mastering Machines - Call for papers now open