Nintendo shows off 3D DS
3DS debuts
Nintendo has introduced the - not unexpected - 3D-enabled version of its DS handheld console.
The - surprise, surprise - 3DS does indeed display 3D without the need for special spectacles, using half of its 3.53in, 800 x 240 display to show the left-eye image and the rest for the right-eye picture, making for a combined 400 x 240 image.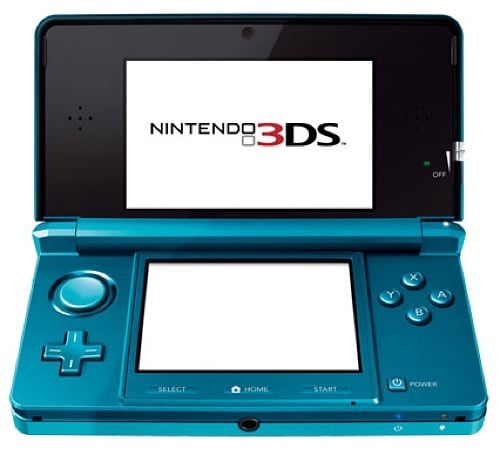 The 3DS' secondary screen is a 3in 320 x 240 touchscreen.
Next bung in three 0.3Mp cameras, one front-facing and two pointing outwards, the latter capable of taking 3D stills - plus 802.11b/g Wi-Fi, and a gyro sensor and a motion sensor.
Nintendo didn't say what games will be included, if any, to show off the 3DS' 3D capability, but it did announce 3DS-specific versions of the Mario Kart, Nintendogs and StarFox 64 franchises, along with Kid Icarus, PilotWings Resort, Animal Crossing, Steel Diver and Paper Mario.
Other publishers will get in on the act too: Activision with DJ Hero 3D, EA with Sims 3, Capcom with Resident Evil: Revelations and Street Fighter IV, Square Enix with Final Fantasy, Namco Bandai with Ridge Racer, Ubisoft with Tom Clancy games, and more.
The 3DS will come in black, red and blue versions, but Nintendo is so far keeping mum about the price - and when it will go on sale over here. ®
COMMENTS
Not real 3D
Clearly using Parallax barrier tech, you are going to have to move your head to get the 3D effect. It's nowhere near the same as the proper 3D you get with the active shutter glasses and such.
However it's so far from launch, Nintendo have plenty of time to build up the hype, that the eventual disappointment of the end product won't matter by then....
It's all rather pathetic to see the media going bonkers over this, despite knowing nothing about it, and not having seen anything actually working from Nintendo....
Cross eye viewing
3d viewing using two distinct images side by side usually requires you to cross eye focus and concentrate on the third image that appears between the two, this third image will be in 3d - good eye exercise actually.
@Gordon 10
Because it's "rubbish 3D". Unless Nintendo have worked out how to re-engineer the human eyes, they only way of fooling the eyes that a 2D image is actually 3D, is with glasses.
It's the form factor
The advantage of a handheld device is that you can be very confident that the user is looking at it more-or-less straight on, from a very limited range of distances. The manufacturer of a TV (or indeed cinema screen) has a much more massive range of possibilities. I think that's why e.g. Microsoft are researching active head tracking to figure out where people are and ensure the images that get through to their eyes match accordingly. Though you're then needing to multiply pixels by the number of people you expect to look at the screen. On the plus side, if you know where the viewer is, you can render the 3d scene they see from an appropriate angle.
Sounds like it
Nintendo reputedly had the people marshalling journalists at their event requiring that the screen be photographed only from front-on angles, with the anecdotal comments being that it looks extremely messy from the side.