Did the iPad just save Wired, and Conde-Nast?
High price, high sales, glossy ads, trebles all round
Saving the whole of the newspaper industry is a big ask, even for a "magical and revolutionary" device, but there might just be hope for the magazine business. The rapaciously-priced ($4.99 for this month's issue) iPad edition of Wired has comfortably outsold the somewhat cheaper print edition, and it's not even ad-free. On the contrary...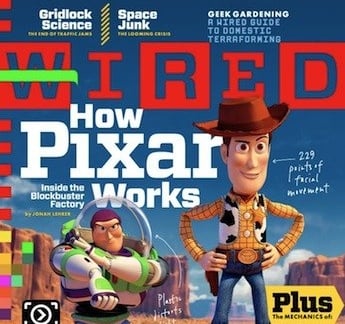 It's a success for 'definitely not free', which you might reckon is a problem for Chris Anderson, editor in chief of Wired and King of Free. Anderson however has been tetchily protesting - in between tweeting the digital edition's scorching sales figures - "For the umtpeenth time: FREE doesn't say everything should be free & The Long Tail doesn't say the blockbuster is dead." Still, it's a happy coincidence that exceptionalism should lie so close to home for him.
Clearly, we can't say how durable that exceptionalism is going to be until we've seen a couple more months' figures. Novelty value will have motivated some of the buyers, and sales will also have been boosted by the build-up for both the iPad and for Wired's first effort for it. And surely it's not feasible to just keep charging $4.99 a month when a year's sub to the paper edition can be had for $10. People are going to start saying, "hang on a minute…" But still, it does look like there might be something there.
Loads of money...
Apple takes a 30 per cent cut of an app's cover price, so if we estimate that Wired will move 90,000 copies this month, Conde-Nast (the publishing company) is looking at sales revenue in the region of $300,000. The seriously large (around 500 megabytes) app is also chock-full of what one presumes is high-ticket advertising, and there's an interesting innovation here - the clickability of Wired's advertisements is restricted.
Ordinarily, click anywhere on a web advertisement and it will fire into action, taking you away from the site and all too frequently presenting you with a not-entirely-fulfilling experience. Or worse, web advertising leaps out at you, and gets more and more annoying the more you try to ignore it. Wired's ads, on the contrary, are rather like Wired's print ads - you, the kind of rich, hip geek who laughs at $4.99 (I think myself into the part here) pause while you gaze contentedly at the car, the tech toy, the latest designer vodka. From New Zealand? What?
COMMENTS
I can see this working
I can see a future of girls reading Vogue etc on their iPads, its just a bit smaller than the slimmed down magazine size and the option to have embedded movies, make up demonstrations, linking straight to where to buy / reserve new clothes etc will be a win. Instead of cat walk photo shoots you can get a little movie with sound of the latest bit of flutter.
It's cute. I had a demo version which I was looking at in a pub before they were released in the UK and all the surrounding girls loved it's cuteness.
Afterall it's perfect for a handbag no ?
I am sure there will be applications for us guys too but I can just imagine the excitement of my magazine devouring GF at this. OMG ! many magazines all on my iPad in one place with the latest stuff, the old stuff I can read *whenever I want* over and over and look ! Movies of clothes !
happy for less coffee table clutter.
Paris cos she's cute too.
She probably has the Art of War on hers.
Not a surprise people pay
@AC - That's the same slice that Google take on the Android Marketplace as well. I think it's a bit steep, but seems to be the standard rate for things like this. Given that they handle everything from credit card fees to hosting for you I can kind of see why though.
I'm also not surprised that people who are willing to spend at least $500 on an iPad would be happy to spend $5 on the magazine, at least as a one-off. If you've got that much money sloshing around in your wallet then you'd probably not notice $5. Not sure it'll work long-term though.
Personally I don't see the benefit, but then if you are buying Wired on a regular basis you are probably not that bright.
hmmmm
> Or worse, web advertising leaps out at you, and gets more and more annoying the more you try to ignore it.
Reminds me of some red-topped IT rag... hang on, I'll remember the name in a minute, has some sort of bird as the icon...
Ta
I'm an iPhone developer. Thanks for getting all upset on my behalf over Apple's 30% cut. Thing is, as far as I'm concerned 30% is an absolute bargain for exposing my apps to 100 million users with a system so simple that users do nothing more than enter their password to make a purchase, handling all the credit card transactions, handling upgrades, handling refunds, handling credit card fraud etc... Please don't tell Steve Jobs but I would have signed up at 50%.
Cost vs cut
'a traditional newsagent takes about 25% of the cover price'
A traditional newsagent has much higher costs though - premises, staff etc.
Steve Jobs doesn't have to get up at 5 am every morning to take delivery of his digital copies either.