Although it doesn't appear to add much in terms of performance, this SSD (a Sandisk pSSD-P2 model) combined with the total lack of fans means the laptop is silent. It does, however, get pretty warm on the underside of the chassis after around 15 minutes of use. The VPCP11S1E can be booted into the included Linux-based Splashtop OS. This boots in around 30 seconds, but all it really offers is a web browser so is of limited use.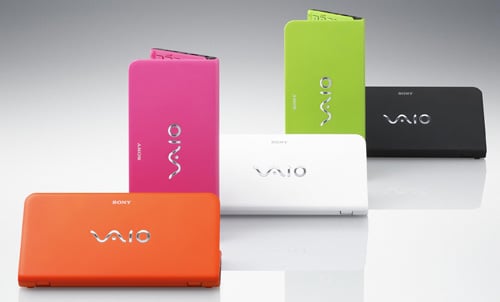 Irresistible? Pink, orange, green, black or white – the choice is yours
Curious as to how the VPCP11S1E copes under Linux, I installed the Ubuntu Netbook Remix. Things didn't get off to good start when it failed to recognise both the trackpoint and touchpad, meaning an external mouse had to be attached. It also ran like a dog, which is most likely down to the Intel GMA 500 graphics, and crashed on more than one occasion. If you've plenty of spare time these issues can probably be solved, but anyone hoping for an easy Ubuntu install will be left sorely disappointed.
Given the small chassis, it's no surprise to find the battery is a measly 19Wh model, but when running PCMark05 in a loop it coped reasonably well, ticking along for five minutes short of the two hour mark. Indulge in a bit of 3G or GPS activity, and this figure will drop significantly. Finally, it's worth mentioning that the VPCP11S1E isn't best suited to upgrades. With no screws in sight, you'd probably need to tear out the four rubber feet if you ever wanted to access the internals.
Verdict
The VPCP11S1E might be small and have an Atom processor, but it's most definitely not a netbook. No, this is a luxury device aimed at those who are happy to pay a premium for something that's a bit different. And it certainly has a lot going for it, not least built-in 3G and GPS, along with its ultra-lightweight design. The keyboard also impresses, but using the trackpoint and/or mini touchpad can be tricky, while the high resolution 8in screen isn't particularly easy on the eye. Moreover, I suspect most Reg readers, myself included, would shudder at the thought of splashing out £800 on such an under-powered device, no matter how pretty it might be.
More Netbook Reviews…

Samsung
NB30
Touch
MSI
Wind
U160
Sony
Vaio M
Dell
Mini 10

Sony Vaio P netbook
Compact netbook for those inclined to spend a little extra for a dash of style.
COMMENTS
Thanks
Thank you for testing the Vaio P with Ubuntu - you've probably saved a number of Reg readers some grief.
Try MediaPlayerClassic
VLC uses CPU rendering whereas MPC will hook into the GMA graphics and use some of that grunt to render.
I have the same problem with 1080P encodes on my media center, the dual core amd 2.0GHz chip isn't up to smoothly rendering the file in VLC but when using MPC the ATi3850 I have stuffed in the box makes no deal out of it.
Also try running MSCONFIG and removing some of the pointless crap on startup. If it has an SSD look at an optimisation guide for SSD's aswell as there's a ton of crap running to aid HDD's that have a negative impact on an SSD.
Netbook? Really?
So, unless you're from Psion, a netbook is a small, cheap, low-powered laptop with a low-res screen. The Vaio P doesn't have the traditional netbook form-factor and it's got a (significantly) above-average screen compared with netbooks. Unsurprisingly, this comes at a premium (especially since the cost of the panel isn't shared among every manufacturer on the planet), so it's not cheap. So why are we calling it a netbook? The article eventually points out that it's not one, but that doesn't really excuse putting "netbook" in the review title. It's not like Sony claim it's a netbook.
By all means rant about whether it's value for money, but starting out by calling it a netbook necessarily puts it on a back foot. If you started by calling it a subnotebook, you could describe it as "cheaper than average and a bit slow". Since "subnotebook" seems to have disappeared from the technical vocabulary, I'd like to remind you that they're very small, premium notebooks, typically compromising functionality in favour of size. This is exactly what a Vaio P is. However, every manufacturer who has traditionally made subnotebooks is now on the back foot, because everyone compared their premium models with the Eee PC. The Eee was "good enough" for a lot of users (especially those like me, used to second-hand Librettos), but that doesn't mean you can ignore every corner that it cut; it was never *that* small, and it was more compromised than true subnotebooks.
If I was in the market for a new laptop, the screen is the first thing I go for, with a portability second. For me, a Vaio P is a very tempting proposition (but not in pink), although I can't deny I'd like it to be a bit cheaper and to have a slightly smoother linux install process. If you're not a resolution addict like me, I'm sure it looks over-priced compared with an original EeePC, because you have no interest in the premium features it offers. Reviewers who don't like high resolution screens (*some* people are comfortable closer to the screen than others) killed the 15.4" WUXGA laptop market; criticising a netbook whose USP is that it has a high-resolution screen for having a high-resolution screen seems unduly harsh. People who want a Vaio P presumably want it because of the screen, not in spite of it (unless they're both idiots and fashion victims).
The Vaio P is in a niche of its own. There are plenty of things to criticise about it, but please don't compare apples to, er, apricots.
Close
... But far too expensive and not good enough to justify the pricetag!
Get yerself an Asus 1005HA-H for £250. Still getting about 9hrs battery from mine and it's under 1.5Kg in mass. Absolutely top machine, great for long-haul flights and daily commuting.
Ok so it's slightly larger than the P Series, but 1/3rd of the price and actually usable as your main machine.