Kinect - Microsoft's official name for Project Natal
Future of gaming etc.
Microsoft hired Cirque du Soleil to demo games running Project Natal yesterday in Los Angeles, the day before E3 opens. At the same time the company revealed the official name of the controller free gaming device: "Kinect for Xbox 360".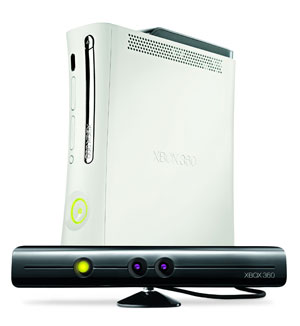 Kinect is said by some to be the future of gaming. But what about the games? CNET's Dan Ackerman saw the Cirque du Soleil performance and was underwhelmed by the "first generation games" on show.
With the advanced nature of sophisticated games such as Heavy Rain, Red Dead Redemption, or even ModNation Racers, does adding a new hardware interface mean the games themselves have to take a five-year step back?
Maybe, but also maybe Microsoft is chasing the Wii family demographic with Kinect. We'll reserve judgment until we get our mitts on one. In the meantime here is what Microsoft has to say about its new puppy.
The slim black Kinect sensor plugs directly into any Xbox 360. Despite its small size, the Kinect device contains a camera, audio sensors, and motion-sensing technology that tracks 48 points of movement on the human body. It has the ability to recognize faces and voices.
Microsoft's marketing machine is moving into hyperdrive in advance of Kinect's launch towards the end of the year.
The company is expected to release more product and games details at an E3 conference today - and the Cirque du Soleil performance will air on US TV tomorrow (Tuesday) at 3.30pm and 9pm EDT on Nickelodeon and MTV. The video will tip up on xbox.com later this week.
Pricing details would be nice, but the trade is already speculating that Kinect will retail around $140.
Sponsored: Minds Mastering Machines - Call for papers now open