China, India steady on server sales
IBM still tops in the East and Down Under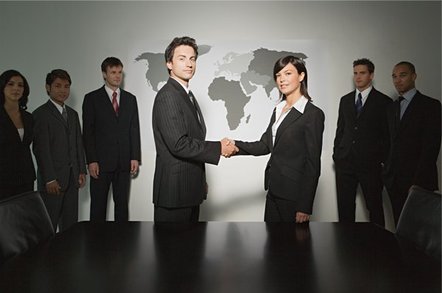 While the server racket recovered somewhat in the first quarter of the year, the still fast-growing economies in India and China were not doing much to help, oddly enough.
According to statistics compiled by box-counter Gartner, the Asia-Pacific region accounted for $1.76bn in revenues in the first quarter of 2010, up 8.8 per cent, against shipment growth of 27.3 per cent to 371,060 machines.
The shipment numbers across Asia-Pacific grew a bit faster than the world at large, which had shipment growth of 23 per cent to 2.12 million units, driving revenues up 6 per cent to $10.75bn, as El Reg previously reported.
So the Asia-Pacific region is understandably something that server makers in Japan and the United States are understandably excited about. But don't jump to the wrong conclusion that Asia-Pacific growth in server sales is being driven by China and India.
By Gartner's casing of the server racket in the region, x64-based servers did well in China and India, but revenues only grew a paltry 4.3 per cent in Greater China and were only up 4.2 per cent in India during the quarter, less than half the growth rate of the Asia-Pacific region as a whole. So these two titans of industry in the region actually dragged the market down in Q1.
Then again, in the prior year, when other countries in that part of the globe were crashing, with sales down 30 to nearly 50 per cent, China and India held up a lot better, with a few percent of revenue decline. So the Great Recession had only a minor effect on server sales in China and India, and the recovery that seems to be underway is not causing irrational exuberance in data centers in the two countries.
IT shops in these two countries also held back on buying big mainframe or RISC/Itanium iron because of product transitions, according to Gartner, just like their peers in the North America and Europe.
Australia and New Zealand together saw server revenues rebound by 36.4 per cent, the ASEAN countries by 17.6 per cent, and Korea by 7.8 per cent in Q1, respectively. Japan is tracked separately, and Gartner has not released server stats to the public from that country, except to say revenues were off seven-tenths of a percent in the period.
Asia-Pacific customers are selling out more dough to buy fatter x64 servers, just like other IT shops around the world. x64 server shipments in Asia-Pacific rose by 30 per cent, but revenues were up 37.9 per cent, pushing up average selling prices. Gartner reckons that four-socket servers comprised a slightly larger portion of total server shipments in Asia-Pacific: 6.2 per cent of shipments, up from 5.2 per cent in the prior year's quarter.
Two-socket boxes accounted for 73.5 per cent of x64 server shipments. Blade server shipments grew by 47.9 per cent in Q1, but Gartner did not say how many of the boxes sold were blades as opposed to towers or racks.
By vendor, HP might have knocked IBM out of the top revenue spot in Q1 on a global basis, but not so in Asia-Pacific. IBM's server sales in the region were up 8.2 per cent, to $690.1m, still considerably ahead of HP, which had $587.3m in revenues, up 17.4 per cent.
Dell rebounded sharply, as it did globally, with sales of $227.6m, up 49.4 per cent, and Oracle was hammered as it was globally, with sales in Asia-Pacific down 45.9 per cent, to $98.9m. Fujitsu did comparatively well, with sales up 16.3 per cent to $26.7m, and other vendors got a relatively tiny $133m slice, up 6.7 per cent.
In terms of shipment growth, HP was up 44.7 per cent to 118,444 machines sold in Asia-Pacific in Q1, followed by Dell, with 88,554 units and growing 47.9 per cent. IBM dropped to the number-three position as Dell shot by it, with only 76,576 machines kicked out in the region. Lenovo, which bought IBM's PC business in part to get credibility as a server maker for SMBs in Asia, posted 41.7 per cent growth to 13,000 machines, and Chinese peer PowerLeader pushed 10,049 boxes, an impressive 85.7 per cent spike in units shipped compared to this time last year.
While other server makers don't make much money in Asia-Pacific, they did collectively peddle 64,437 machines, basically flat from Q1 2009, accounting for a little less than a fifth of the market. ®
Sponsored: Minds Mastering Machines - Call for papers now open