Buffalo and Western Digital get into TV
Goggle box gets drive and media player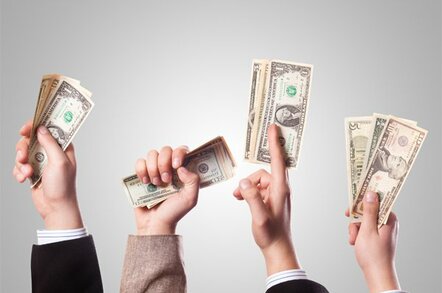 Two new products are showing how the storage world is starting to flirt with TV. Buffalo's DriveStation AV and Western Digital's WD TV Live Plus HD media player are respectively friendly with and completely dependent on a TV.
The DriveStation AV is a single 3.5-inch SATA drive offering 1TB, 1.5TB or 2TB capacity, in a very shiny black horizontal case sporting blue and red capacity LEDs. It connects via USB 2.0 to PCS, notebooks, Macs (yes, it's Time Machine compatible), games consoles supporting USB 2.0 such as the PS2, and HD TVs with USB ports.
It's bus-powered and so turns on and off with its host. There are ten blue LEDs, each representing 10 per cent free capacity. When the free space drops to 10 per cent or less then the LEDs change to red and each one represents one per cent free capacity. It's very pretty, but all you can do is wipe files off the device or get a second one.
There is no hot-swap capability and no ability to daisy-chain the device.
It comes with tools for Windows hosts: TurboPC and Turbo Copy seed up file transfers, Backup backs up fields, Eco Mode works with Windows 7 to power it down after a period of inactivity and ServerLockManager for Windows secures access to files.
DriveStation AV is a fairly basic product, but it's quite cheap too, starting at £109.99 for the 1TB version and rising to £159.99 for the 2TB one.
WD TV Live Plus HD
WDs product is a box that sits between a high-definition TV (HD TV) and media-storage entities, which can be Ethernet, USB or WiFi-connected Macs, PCs, notebooks, camcorders or digital cameras, or streaming media sources on the Internet such as Flickr, Netflix, YouTube or Pandora (radio). Its whole point is to be connected to an HD TV and use its screen as the control interface. Without the TV it's nothing.
We should think of it as an embedded HD TV content server.
The thing is HD media-centric with a list of features as long as your arm. This includes: full-HD 1080p video playback and navigation with the included remote control and animated navigation menus; access to TV episodes and movies to watch instantly for any Netflix member with an unlimited subscription; two USB ports for connecting storage or content sources like camcorders; HDMI 1.3 port, composite video and component video output4; and SPDIF digital output that sends digital signals to your AV receiver.
This HD TV set-top box brings content from camcorders and cameras to the HD TV. That TV will most likely already have a satellite set-top box and probably a digital video recorder. How long will it be before we get a consolidated or converged set-top box which provides all three functions: broadcast TV content via satellite or cable, digital video recording and playing of content from the PC/internet world?
Sony, with its Bravia TV brand, Viaio notebooks, PS3s and so forth may well be one of the first suppliers to bring out such a super set-top box. Apple has interesting possibilities with its Apple TV, and Iomega, La Cie and Toshiba have interests in the area too. But WD is adding features to its media playing products at such a rate that it might well get there first.
WD's TV Live Plus HD media player is available now at select retailers and online at shopwd.com. It has a manufacturer's suggested retail price of $149.99. It's not on the UK shopwd.com site yet but when it comes it might be £110 or so, based on prices for similar WD products in the USA and UK. ®
Sponsored: Minds Mastering Machines - Call for papers now open