Fitting a touch screen to a netbook has always seemed a good idea because it reduces the time you have to spend fiddling with the diminutive track pad and mouse bar arrangements that all netbooks are cursed with.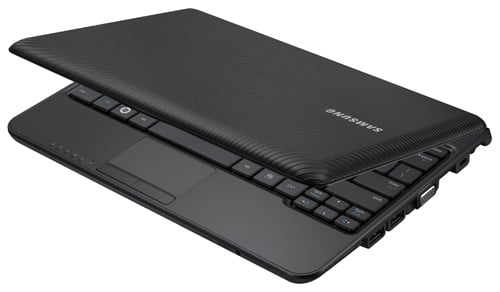 Given the trackpad size, a touchscreen is quite helpful
However, even though the NB30 Touch's screen is nominally matt, it's far more reflective than the screen fitted to the standard NB30. Brightness takes a hit too with the Touch's screen being noticeably less bright at the maximum setting. On the positive side, despite the semi-matt finish, the screen still manages to avoid showing up fingerprints.
In use the resistive touch screen feels very similar to that fitted to the Dell Latitude 2100. Basic drag and tap commands all work well but multi-touch gestures are hit and miss depending on the application. For instance pinch-to-zoom works fine with images in Windows Photo Viewer but you'll get no joy trying to use the same moves on a web page.
Specific gestures can be assigned to certain actions or to launch certain applications using the eGalaxTouch control panel and these proved reliable enough, with commands more often than not triggering the assigned function at the first attempt.
For a purer touchscreen experience ,the NB30 comes bundled with something called Play Touch, which launches a four panel desktop that can be populated with widgets and direct media links along with simplified and finger friendly versions of Internet Explorer, Windows Media Player and Windows Explorer. A two-fingered drag spins the screen back to the Windows 7 desktop complete with 3D animated transitions.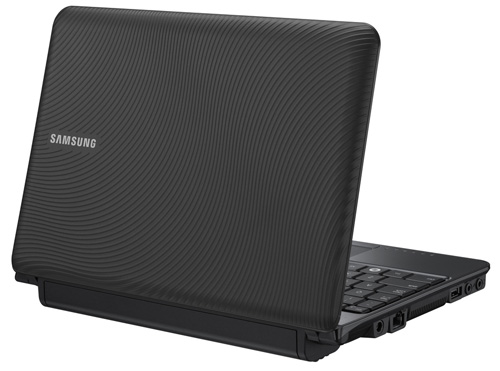 The Play Touch software is best left untouched
How much value Play Touch will be to users is questionable, for the simple reason that it runs on top of Windows 7, so is hardly the fastest UI you are ever going to come across. No doubt many will ignore it or uninstal it, considering it bloatware. Indeed, half way through my test, Play Touch packed up. Attempts to launch it thereafter triggered a cryptic and indecipherable Windows warning. Yet it's no great loss for grownups and going without it didn't impact on my productivity nor my overall rating. Moreover, while the touchscreen is a feature worth having, at no point could you mistake the NB30 for an iPad.
COMMENTS
SSD option?
While I realise that HDDs are actually pretty robust nowadays and the accelerometer-controlled head-parking will likely prevent disasters I can't help but think that a device like this is crying out of SSD. Only recently we've seen reports that just the vibration from other equipment in data centres is supposed to slow down HDD performance and I know from experience that HDDs in portable devices cause "stalls" -- but with SSD you have vibration-resistant storage meaning your hard drive doesn't have to stop when you drop it on the bed or the bus or car journey is particularly bumpy.
Surely this is _the_ application, outside of high-speed situations, where SSD comes into its own?
OH SNAP !!!
the 250GB hard drive has a free-fall sensor that can detect the sort of sudden downward acceleration – recently associated with the BP's share price
Nice very nice !!!
Touch screens...
When are people going to wake up and realize that "touch" and "gesture" based interfaces for all but hand held devices is STUPID? Wasn't the industrial revolution about replacing muscle power with machines?
Isn't waving your arms around to use a computer like, um, tiring? I'll twiddle my fingers on a four-inch screen or a touchpad, no problem, but on a laptop monitor you can't hand hold? An outrageous number of people have clearly started smoking some really good weezee and drinking Kool-Aid at the same time.
Imagine the scene in 20 years' time when the world is dominated by Wii-type controllers and multi-touch screens:
DR EVIL: "Riiiight... today we are going to introduce an IT revolution... I've invented this new device that I like to call a "mouse"... using this "mouse" which is a small hand-held controller that stays on a flat surface, the user can manipulate a "pointer" on the monitor and make it travel huge distances on screen with just a tiny movement of the hand on the "mouse"... no more large arm movements across the monitor or nasty fingerprints. Quite breathtaking I think."
NUMBER TWO: "Um, Dr Evil... That's already been done."
DR EVIL: "Riiight. How about this. We replace the virtual keyboard on computer monitors with something I'll call a "hardware" keyboard. This "hardware" keyboard will be a separate item with finger-sized, spring-loaded plastic keys that will keep the monitor clean, provide improved tactile feedback and allow the monitor surface and keyboard to be at separate angles to combine an optimal viewing AND typing experience."
NUMBER TWO: "That too, has already been done."
DR EVIL. "Shit. OK, let's just find an old CRT TV set, buy a Commodore 64 on eBay and hide in the bedroom."
I don't understand...
What the hell for you're benchmarking the same processor and virtually the same memory, in a hardware based on the same reference design and with common chipset et al, to obtain and then present benchmark values with differences lower than the statistical error ?? Gosh, I mean, it's a netbook, it has to do the job of running some office software, browsing the net etc, not running the latest games at 100 fps, so it's the battery life that counts and bells and whistles like accelerometers.
Get a grip on yourself El Reg, publish data that's relevant for the product. This article amounts to comparing the thermal conductivity of hinge covers in various models of refridgerators - NOT RELEVANT FOR SOMEONE BUYING A FRIDGE!
SSD not really a go with Win 7
A friend bought a Asus T91MT so as to get a touchscreen netbook with SSD. It was pretty expensive with its 32GB of flash. Windows 7 has a min disk requirement of 16GB and often people insist on putting their own stuff on the disk. I doubt that we will see many flash based netbooks as long as Win 7 is popular and flash is relatively expensive.
Either XP or Linux is a solution to the disk space issue. The person with the T91MT now has Linux Mint on it (3GB).