Samsung NB30 touchscreen durable netbook
Tough and touchy
Review Samsung's range of first generation netbooks consisted of such a bewildering array of similar spec machines that a year on its difficult to remember what the difference was between the N110, N120 and N310. So I had a slight sinking feeling when the NB30 turned up because the basic specification is identical to the N220.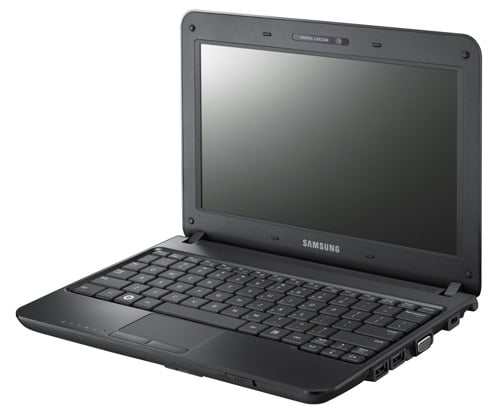 Touchscreen option: Samsung's NB30
Look more closely though and you will see two differences. Firstly the NB30 Touch is an semi-rugged netbook aimed at the careless, the adventurous and school kids. Secondly, it comes with a touchscreen.
The NB30's ruggedness comes in three servings. First and most obvious is the ridged and rubberised casing which provides a greater degree of impact resistance than your typical netbook body. The textured matt covering also has the benefits of not showing up fingerprints and making the body easy to grip.
Secondly, the 250GB hard drive has a free-fall sensor that can detect the sort of sudden downward acceleration – recently associated with the BP's share price – that gives the hard drive time to lock down its moving parts and thereby minimising any chance of them coming into catastrophic contact.
Finally, the keyboard assembly is fitted with a waterproof seal that isolates it from the motherboard meaning that inadvertent liquid spills onto the keyboard deck shouldn't ruin your day. To test this I chucked half a glass of water onto the keyboard, flipped it over to let it drain and immediately began to wonder if Samsung would ever lend me anything again.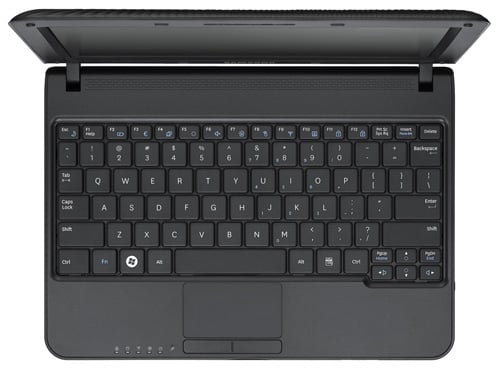 Water resistant keyboard passed the spill test
Thankfully, the NB30 continued to work perfectly. I suspect it may be that water seal that's the cause of the NB30's keys having a rather short and lifeless action, something exaggerated by the flat design of the keys themselves. It's not really any worse than the calculator-style keyboard of the N220, but I prefer the more traditional design found on the Samsung N140 which is one of the best netbook keyboards about. The NB30's track pad and click-bar arrangement is carried over wholesale from the N220.
COMMENTS
SSD option?
While I realise that HDDs are actually pretty robust nowadays and the accelerometer-controlled head-parking will likely prevent disasters I can't help but think that a device like this is crying out of SSD. Only recently we've seen reports that just the vibration from other equipment in data centres is supposed to slow down HDD performance and I know from experience that HDDs in portable devices cause "stalls" -- but with SSD you have vibration-resistant storage meaning your hard drive doesn't have to stop when you drop it on the bed or the bus or car journey is particularly bumpy.
Surely this is _the_ application, outside of high-speed situations, where SSD comes into its own?
OH SNAP !!!
the 250GB hard drive has a free-fall sensor that can detect the sort of sudden downward acceleration – recently associated with the BP's share price
Nice very nice !!!
Touch screens...
When are people going to wake up and realize that "touch" and "gesture" based interfaces for all but hand held devices is STUPID? Wasn't the industrial revolution about replacing muscle power with machines?
Isn't waving your arms around to use a computer like, um, tiring? I'll twiddle my fingers on a four-inch screen or a touchpad, no problem, but on a laptop monitor you can't hand hold? An outrageous number of people have clearly started smoking some really good weezee and drinking Kool-Aid at the same time.
Imagine the scene in 20 years' time when the world is dominated by Wii-type controllers and multi-touch screens:
DR EVIL: "Riiiight... today we are going to introduce an IT revolution... I've invented this new device that I like to call a "mouse"... using this "mouse" which is a small hand-held controller that stays on a flat surface, the user can manipulate a "pointer" on the monitor and make it travel huge distances on screen with just a tiny movement of the hand on the "mouse"... no more large arm movements across the monitor or nasty fingerprints. Quite breathtaking I think."
NUMBER TWO: "Um, Dr Evil... That's already been done."
DR EVIL: "Riiight. How about this. We replace the virtual keyboard on computer monitors with something I'll call a "hardware" keyboard. This "hardware" keyboard will be a separate item with finger-sized, spring-loaded plastic keys that will keep the monitor clean, provide improved tactile feedback and allow the monitor surface and keyboard to be at separate angles to combine an optimal viewing AND typing experience."
NUMBER TWO: "That too, has already been done."
DR EVIL. "Shit. OK, let's just find an old CRT TV set, buy a Commodore 64 on eBay and hide in the bedroom."
I don't understand...
What the hell for you're benchmarking the same processor and virtually the same memory, in a hardware based on the same reference design and with common chipset et al, to obtain and then present benchmark values with differences lower than the statistical error ?? Gosh, I mean, it's a netbook, it has to do the job of running some office software, browsing the net etc, not running the latest games at 100 fps, so it's the battery life that counts and bells and whistles like accelerometers.
Get a grip on yourself El Reg, publish data that's relevant for the product. This article amounts to comparing the thermal conductivity of hinge covers in various models of refridgerators - NOT RELEVANT FOR SOMEONE BUYING A FRIDGE!
SSD not really a go with Win 7
A friend bought a Asus T91MT so as to get a touchscreen netbook with SSD. It was pretty expensive with its 32GB of flash. Windows 7 has a min disk requirement of 16GB and often people insist on putting their own stuff on the disk. I doubt that we will see many flash based netbooks as long as Win 7 is popular and flash is relatively expensive.
Either XP or Linux is a solution to the disk space issue. The person with the T91MT now has Linux Mint on it (3GB).