Spotify available on TV
In Sweden, anyways
Spotify's universal jukebox is now embedded in TVs - in Sweden to begin with. TeliaSonera has made it available to 120,000 customers - who will need to buy a Spotify Premium subscription.
The UI is optimised for sofa browsing, and it should look a lot like this: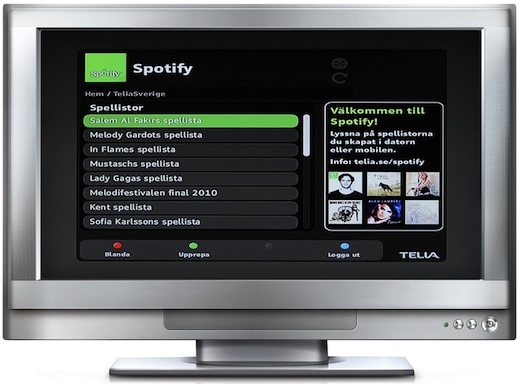 Spotify on TV
A year ago Spotify founder Daniel Ek said he'd like to the company to expand from music into video delivery. The client software has a P2P engine underneath, which in theory allows popular content to be distributed without troubling a Content Delivery Network such as Akamai, or… Google. That's something that would appeal to an ISP. There are many ways of skinning that kitty.
But Ek said music will keep the company busy for a couple of years.
Sky and Virgin have had big plans to deliver music via the ever-swankier TV set in your living room, but without the full cooperation from the music business they would like. Virgin put the West's first legal P2P service on ice after heavy investment, and has yet to launch its unlimited downloads service. Sky's music bundle washed up here last October. ®
Sponsored: RAID: End of an era?