Samsung LE40C650
Review Samsung's set is a sleek, good looking design, and out of the box the HD picture quality was stunning. Setup even ends with a handy reminder for the less technically savvy to connect set-tops and suchlike using HDMI for HD pictures.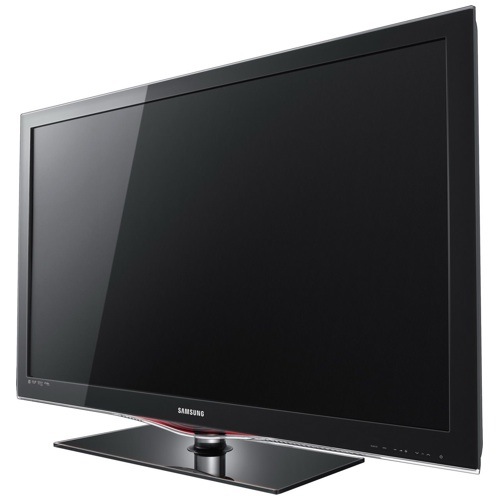 However, the SD picture quality wasn't as good, until the settings were tweaked, and though there's a good range of options, the menu system makes accessing them fiddly – and you can't even view the built-in test patterns without turning off digital text first.
The remote takes some getting used to. It's backlit, and you'll probably need that as each row of buttons is a single flat panel, so finding them by touch is not easy.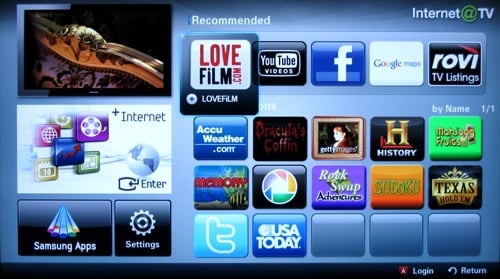 More online services than you can shake a stick at – including film rental
Samsung has really beefed up its Internet@TV service. From being a bit of a damp squib, it's now much better, with many more options, including LoveFilm, Google Maps, Twitter and the ubiquitous YouTube. Finding things there is simpler, thanks to predictive text entry.
Network media playback is much better with this set too. It still has one of the best ranges of file compatibility – though it didn't like the audio on my WMV HD clips – and the interface is improved as well.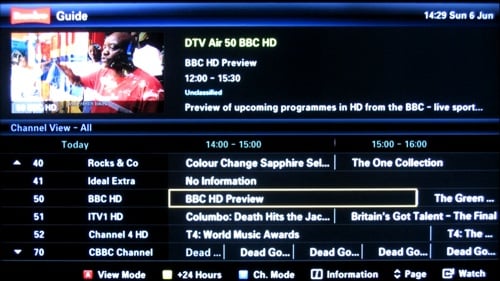 A clear EPG; it lacks frills, but does the job it needs to
It's a great set, marred only a little by the remote and the - thankfully turn-offable - startup melody.
Verdict
Best-in-class connectivity options and media playback make this a great choice for anyone who wants to go beyond just watching TV. ®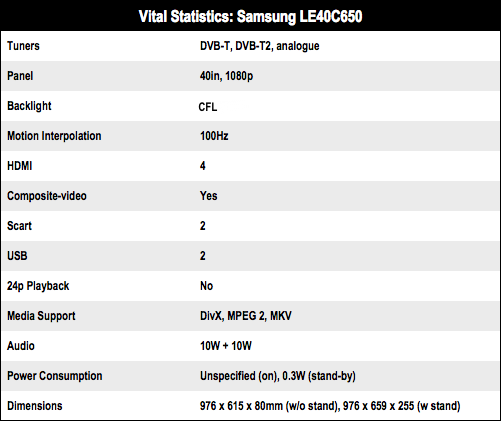 COMMENTS
Process understood
I mistakenly thought you'd go to manufacturers and say - "We're doing a review of 40 inch Freeview HD TVs. If you provide one by <date> we will include it in our published article on <date2>."
Which? Magazine manage it but their reviews are not for the technically minded, the reviews that you do are excellent for the audience of this web site. I guess Which? have a large readership and manufacturers bend over backwards...
I'd love to
Really; I'd love to have managed to get the same size sets from each manufacturer, but with a brand new technology like this, if I had to wait until everyone could get the same size to me, I'd still be waiting for boxes to be delivered, and the editors at Reg Hardware would still be wondering when they'd get their copy.
If we start out wanting a particular size, but then all we can get from one major manufacturer is a different size, what would you prefer? Omit big brand X and having readers say "Why didn't you look at X, this is a crap review?" or wait until everyone can get all the kit to you and have readers say "This has been out for ages. You should have reviewed it months ago"?
If we'd set out to look at, say, 40 inch sets, that's the situation we'd be in. So we set out to give an overview of some of what's available for Freeview HD, and there will be other product reviews in future.
Comparison ?
At least compare sets of the same size - 40in Samsung (Editor's choice) may be good, but to compare it to a 46 inch TV ?