Original URL: http://www.theregister.co.uk/2010/06/09/review_laptop_dell_alienware_m11x_gaming_laptop/
Dell Alienware M11x 11in gaming notebook
Playing outdoors
Posted in Laptops, 9th June 2010 12:15 GMT
Free whitepaper – Hands on with Hyper-V 3.0 and virtual machine movement
Review The Alienware M11x has been heralded as the world's first true gaming netbook. To be fair, that's not a misnomer Dell uses in its advertising, preferring to position the 285mm wide 11.6in widescreen unit as simply a sub-15in gaming laptop.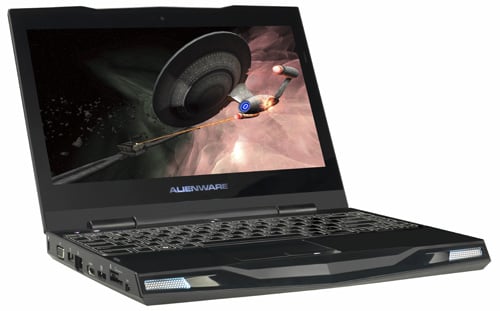 Fire walk with me: Dell Alienware M11x
It's right to do so. At 33mm thick, a fraction under 2kg and sporting a 1366 x 768 screen, the M11x is more ultra-portable than netbook. But even this categorisation proves limited, as the relatively potent Nivdia GeForce GT 335M [1] graphics card offers gaming capabilities unseen in other ultra-portables.
The M11x won't trouble larger, dedicated gaming laptops. I tested the M11x with a Core 2 Duo CPU. The M11x is getting Core i5 and i7 CPUs any day now, but even so, this recent incarnation M11x should satisfy anyone looking for a truly mobile gaming machine.
Its aesthetics won't satisfy everyone, though. The M11x inherits the chunky, angular looks of Alienware's M15x and M17x. But they do provide greater robustness than other ultra-portables. Sturdy hinges close the claspless clamshell with a reassuring thud. And with almost no flex, the screen is well protected when opening or closing. The keyboard and large, textured touchpad compared well with other 11.6in laptops. But the touchpad's springy buttons feel cheap, and the cursor keys are only half-size.
The included AlienFX software allows for independent customisation of keyboard, front grille, power button and logo lights. Although certain combinations (not to mention pulsating or morphing options) take you into garish Max Power territory, it looks surprisingly good when employed tastefully.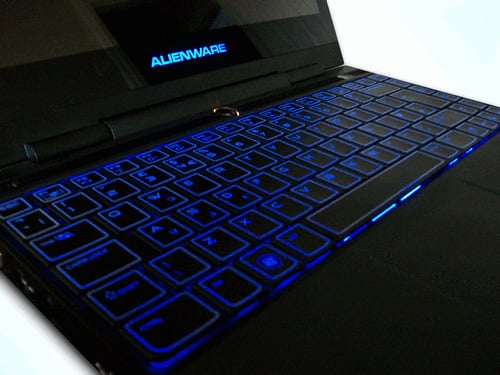 Eye candy keyboard
There's a good array of ports: HDMI, DisplayPort, VGA, powered USB, mini-firewire, card reader, SIM and Fast Ethernet are located on the left side. And on the right there are two USB ports, two audio outputs and one microphone input (that can be utilised for 5.1 audio), leaving just the power cord at the rear.
---
Apart from lacking an optical drive, the M11x's most visible flaw is its screen. Even with its LED backlight on full, it's so glossy that you'll spend more time looking at your reflection than Narcissus. The viewing angle isn't great either. And with a bezel running a half-inch around the sides and an inch top and bottom, it's obvious that the screen has been constrained at 11.6in to squeeze the most out of the GeForce GT 335M.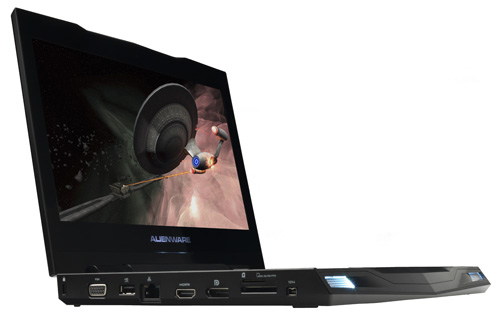 Audio options can be configured to deliver a 5.1 surround output
One final issue is the lack of Nvidia Optimus to provide automated switching between integrated and discrete graphics. Even though there's a simple function key to switch, it's easy to forget, and carry on working while the GT 335M chews through the battery.
The test system came with the upgraded SU3700 [2] Core 2 Duo and 4GB of RAM (adding £120 to the base price). Testing was carried out in the M11x's overclocked mode, which speeds up the SU4100 [3] and SU7300 from 1.3GHz to 1.73GHz through a simple BIOS selection, and is covered under Dell's one-year warranty.
The PCMark Vantage charts show the Mx11 performs excellently against its ultra-portable peers, but highlights the SU7300 as a bottleneck compared to the 2010 Intel Core processors, as seen in our recent review of the Acer Timeline X 4820TG [4].
Using Reg Hardware's PCMark Vantage loop test, and turning off the AlienFX lighting, the M11x lasted 3 hours and 11 minutes with the GT 335M switched on. Reverting to integrated graphics, but still overclocked, the 8-cell lithium ion battery lasted an impressive 5 hours 23 minutes, which corroborates Dell's theoretical 8 hours and 39 minutes during lighter use and, presumably, with no overclocking.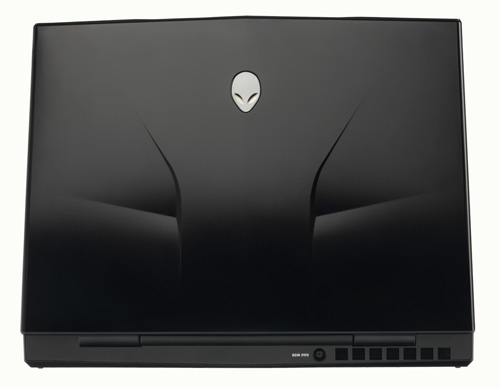 Power saving options can drag out the battery life for less demanding use
Battery tests and PCMarks are one thing, but the M11x's USP is gameplay. The M11x scored 6,294 in 3DMark 06 and 2,690 in 3DMark Vantage Performance, albeit using a monitor for Vantage's required 1280 x 1024 resolution. But benchmarks are for number crunchers. The real tests came in-game, at the full 1366 x 768 resolution, and recorded using FRAPS.
---
Benchmark Tests
PC Mark Vantage Results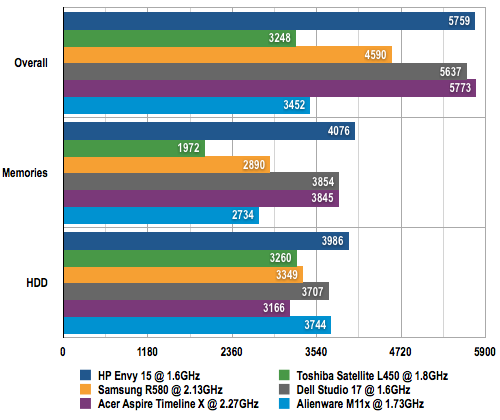 Longer bars are better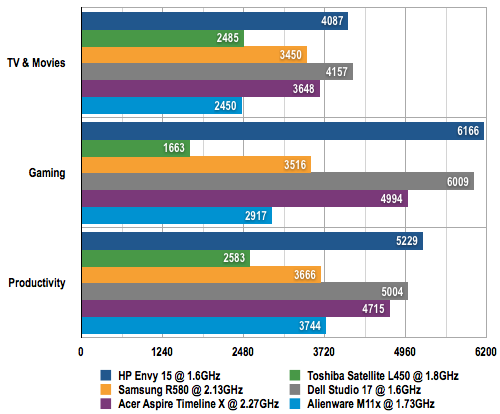 Longer bars are better
Battery Life Results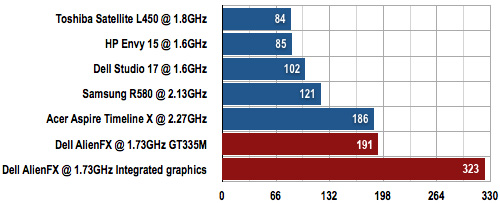 Battery Life in Minutes
Longer bars are better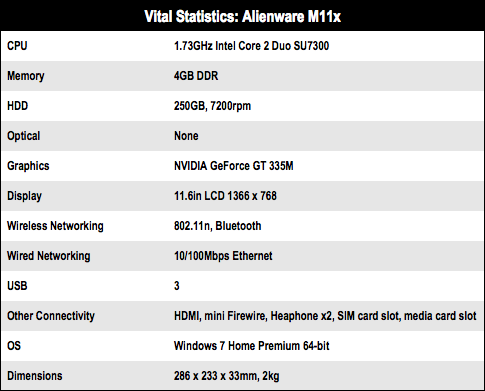 ---
The M11x handled everything, even Crysis. On medium settings with no AA it averaged a respectable 37FPS. And with 2xAA the frame rate never dropped below 27. Mass Effect 2 ran at an average of 43FPS with everything on, and ran for long periods of time around the 60FPS mark. Even more impressive, the far busier COD: MW2 never dipped below 32FPS with 2xAA and everything on.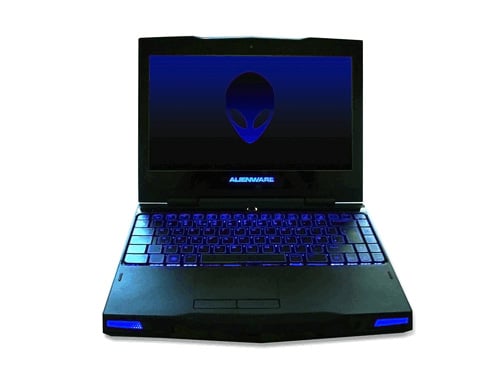 For those inclined to journey beyond the blasting couch
Even when hooked up to a 37in HDTV, the graphics and frame rates still impressed, although understandably began to chug when the resolution was raised to anywhere near full 1080p.
Verdict
The Alienware M11x is difficult to score comparatively. Significantly cheaper ultra-portables perform better at everyday tasks, and most 15in+ dedicated gaming notebooks perform better at gaming. But the M11x deserves the niche it's carving for itself with the forthcoming Core i5 and i7 models adding to its appeal. Considering its weight and dimensions, this is, indeed, a truly mobile gaming notebook with an excellent battery life for such a capable machine. ®
More Notebook Reviews

Acer
Timeline X
4820TG [5]
Dell
Studio 17 [6]
Samsung
R580 [7]
Toshiba
Satellite
U500 [8]