Apart from lacking an optical drive, the M11x's most visible flaw is its screen. Even with its LED backlight on full, it's so glossy that you'll spend more time looking at your reflection than Narcissus. The viewing angle isn't great either. And with a bezel running a half-inch around the sides and an inch top and bottom, it's obvious that the screen has been constrained at 11.6in to squeeze the most out of the GeForce GT 335M.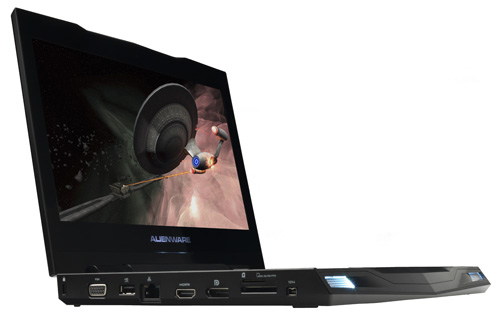 Audio options can be configured to deliver a 5.1 surround output
One final issue is the lack of Nvidia Optimus to provide automated switching between integrated and discrete graphics. Even though there's a simple function key to switch, it's easy to forget, and carry on working while the GT 335M chews through the battery.
The test system came with the upgraded SU3700 Core 2 Duo and 4GB of RAM (adding £120 to the base price). Testing was carried out in the M11x's overclocked mode, which speeds up the SU4100 and SU7300 from 1.3GHz to 1.73GHz through a simple BIOS selection, and is covered under Dell's one-year warranty.
The PCMark Vantage charts show the Mx11 performs excellently against its ultra-portable peers, but highlights the SU7300 as a bottleneck compared to the 2010 Intel Core processors, as seen in our recent review of the Acer Timeline X 4820TG.
Using Reg Hardware's PCMark Vantage loop test, and turning off the AlienFX lighting, the M11x lasted 3 hours and 11 minutes with the GT 335M switched on. Reverting to integrated graphics, but still overclocked, the 8-cell lithium ion battery lasted an impressive 5 hours 23 minutes, which corroborates Dell's theoretical 8 hours and 39 minutes during lighter use and, presumably, with no overclocking.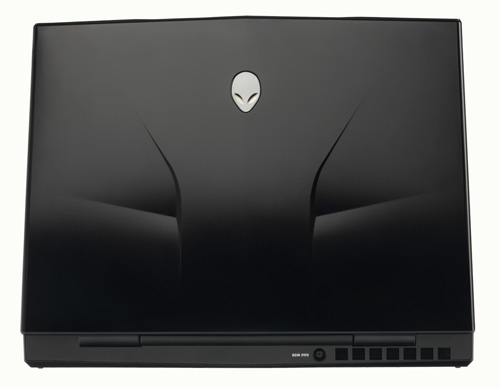 Power saving options can drag out the battery life for less demanding use
Battery tests and PCMarks are one thing, but the M11x's USP is gameplay. The M11x scored 6,294 in 3DMark 06 and 2,690 in 3DMark Vantage Performance, albeit using a monitor for Vantage's required 1280 x 1024 resolution. But benchmarks are for number crunchers. The real tests came in-game, at the full 1366 x 768 resolution, and recorded using FRAPS.
COMMENTS
ION
My brother has an ION netbook, it can't even manage World of Warcraft let alone Crysis on low. Maybe the 1201N is more capable because it has a dual-core CPU to help, but it's still not going to be anywhere near as powerful as the M11x.
Plus, most console ports won't have a low detail option like Crysis, they'll only go as low as the console assets allow, which the ION won't be able to handle.
Dead on Arrival
I have one of these sitting in my living room waiting for Dell's lamentable customer service organisation to accept I am owed a refund after it came DoA four weeks ago (and it looks like that won't happen until small claims, ho hum).
It's a shame that there's nothing comparable at the moment tech-wise, though I guess the competition will be racing to catch up.
hmm
I was not sure which to go for when i was looking, the m11x or the m15x.
The only thing that really wound me up, was the vastly larger selection of customisations available from the US site compared to the UK site. Especially when they are all shipped from the same warehouse.
I've got one
I've been fairly pleased with my M11x, it certainly does play plenty of games at high detail settings without any real drawbacks. The facial recognition login is a fun if useless feature too.
My main complaint would be that many units (including mine) are unable to overclock thanks to the BIOS undervolting the CPU when overclocked. Apparently this is to help save battery life but the knock-on effect is that weaker chips are unstable. I should have returned mine but I was expecting Dell to knock out a simple BIOS update, which they haven't bothered with. Now that the i5/i7 model is out they'll likely not even bother now.
Still, even at stock it runs everything very well, with only CPU intensive RTS games being hampered by the low clocked 1.3GHz Core 2 Duo. Games like Mass Effect 2, Arkham Asylum, Mirror's Edge, SFIV, Devil May Cry 4, etc all run perfectly. You can tell from that list I basically use it as a portable Xbox 360, and it excels at that.
The timing of El Reg's review is a little odd considering the i5/i7 model has been out for a couple of days. It would be nice to see what sort of performance difference is to be gained by the new CPUs. Plus from what I understand the new model has Nvidia's Optimus onboard so you don't need to worry about switching GPUs for simple browsing tasks (I never bother with mine).
hmmm
Where as being able to play crysis on medium settings is nice, if you want a portable gaming machine netbook thing, something like the 1201n from asus would be better suited. Or any ION netbook. They are quite capable of crysis on lower settings. The only game I haven't been able to play is GTA IV (no surprises). And its almost half as cheap as this.