Dell Alienware M11x 11in gaming notebook
Playing outdoors
Review The Alienware M11x has been heralded as the world's first true gaming netbook. To be fair, that's not a misnomer Dell uses in its advertising, preferring to position the 285mm wide 11.6in widescreen unit as simply a sub-15in gaming laptop.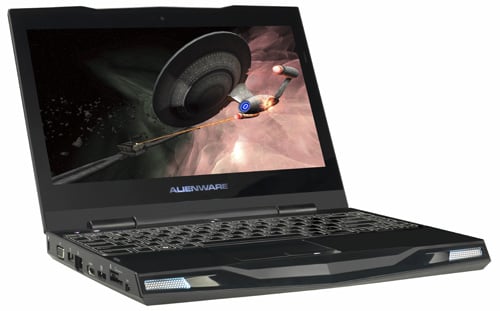 Fire walk with me: Dell Alienware M11x
It's right to do so. At 33mm thick, a fraction under 2kg and sporting a 1366 x 768 screen, the M11x is more ultra-portable than netbook. But even this categorisation proves limited, as the relatively potent Nivdia GeForce GT 335M graphics card offers gaming capabilities unseen in other ultra-portables.
The M11x won't trouble larger, dedicated gaming laptops. I tested the M11x with a Core 2 Duo CPU. The M11x is getting Core i5 and i7 CPUs any day now, but even so, this recent incarnation M11x should satisfy anyone looking for a truly mobile gaming machine.
Its aesthetics won't satisfy everyone, though. The M11x inherits the chunky, angular looks of Alienware's M15x and M17x. But they do provide greater robustness than other ultra-portables. Sturdy hinges close the claspless clamshell with a reassuring thud. And with almost no flex, the screen is well protected when opening or closing. The keyboard and large, textured touchpad compared well with other 11.6in laptops. But the touchpad's springy buttons feel cheap, and the cursor keys are only half-size.
The included AlienFX software allows for independent customisation of keyboard, front grille, power button and logo lights. Although certain combinations (not to mention pulsating or morphing options) take you into garish Max Power territory, it looks surprisingly good when employed tastefully.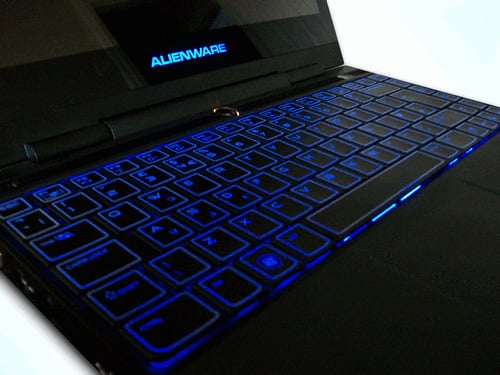 Eye candy keyboard
There's a good array of ports: HDMI, DisplayPort, VGA, powered USB, mini-firewire, card reader, SIM and Fast Ethernet are located on the left side. And on the right there are two USB ports, two audio outputs and one microphone input (that can be utilised for 5.1 audio), leaving just the power cord at the rear.
COMMENTS
ION
My brother has an ION netbook, it can't even manage World of Warcraft let alone Crysis on low. Maybe the 1201N is more capable because it has a dual-core CPU to help, but it's still not going to be anywhere near as powerful as the M11x.
Plus, most console ports won't have a low detail option like Crysis, they'll only go as low as the console assets allow, which the ION won't be able to handle.
Dead on Arrival
I have one of these sitting in my living room waiting for Dell's lamentable customer service organisation to accept I am owed a refund after it came DoA four weeks ago (and it looks like that won't happen until small claims, ho hum).
It's a shame that there's nothing comparable at the moment tech-wise, though I guess the competition will be racing to catch up.
hmm
I was not sure which to go for when i was looking, the m11x or the m15x.
The only thing that really wound me up, was the vastly larger selection of customisations available from the US site compared to the UK site. Especially when they are all shipped from the same warehouse.
I've got one
I've been fairly pleased with my M11x, it certainly does play plenty of games at high detail settings without any real drawbacks. The facial recognition login is a fun if useless feature too.
My main complaint would be that many units (including mine) are unable to overclock thanks to the BIOS undervolting the CPU when overclocked. Apparently this is to help save battery life but the knock-on effect is that weaker chips are unstable. I should have returned mine but I was expecting Dell to knock out a simple BIOS update, which they haven't bothered with. Now that the i5/i7 model is out they'll likely not even bother now.
Still, even at stock it runs everything very well, with only CPU intensive RTS games being hampered by the low clocked 1.3GHz Core 2 Duo. Games like Mass Effect 2, Arkham Asylum, Mirror's Edge, SFIV, Devil May Cry 4, etc all run perfectly. You can tell from that list I basically use it as a portable Xbox 360, and it excels at that.
The timing of El Reg's review is a little odd considering the i5/i7 model has been out for a couple of days. It would be nice to see what sort of performance difference is to be gained by the new CPUs. Plus from what I understand the new model has Nvidia's Optimus onboard so you don't need to worry about switching GPUs for simple browsing tasks (I never bother with mine).
hmmm
Where as being able to play crysis on medium settings is nice, if you want a portable gaming machine netbook thing, something like the 1201n from asus would be better suited. Or any ION netbook. They are quite capable of crysis on lower settings. The only game I haven't been able to play is GTA IV (no surprises). And its almost half as cheap as this.