Public backs pirate punishment - poll
Freetards find little sympathy, much indifference
Surprisingly strong public support for punishing copyright freeloaders has emerged in a new poll. It suggests that activists have a job on their hands persuading the public that infringers are the Robin Hoods of the village - they might even be the village idiots.
48 per cent of people polled agreed that repeat infringers who ignore warnings should have their internet connection suspended - while just 14 per cent disagreed. A higher number agreed with the view that "protecting creative industries" is important. Web blocking emerged as the most popular sanction against online infringement. 25 per cent backed it, while 14 per cent favoured criminal prosecutions and 11 per cent suspensions.
The results are in Wiggin's vast annual Entertainment Survey, which covers consumer entertainment consumption - licensed and pirate - including everything from games to 3DTV. Parliament recently voted strongly to give Ofcom the power to take technical measures as a last resort against repeat copyright infringers, which drew noisy online protests.
A clue to the difference between the angry Twittersphere and the far greater but indifferent public lies in one figure in particular - one that changes very little, no matter who is asking the questions. In line with other surveys, almost two thirds (63 per cent) of those polled said they didn't engage in unlicensed file sharing. Eight per cent regularly sought out unlicensed material, 15 per cent did so occasionally, and 15 per cent rarely. For music that's six, eight and 11 per cent respectively, and for movies five, 10 and seven per cent.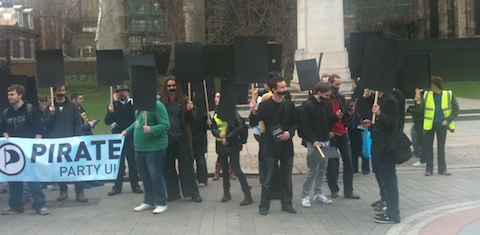 Pirates take the street by the dozen
Only around three to five per cent of those polled consistently disagreed strongly with anti-infringement measures, with five to eight per cent disagreeing less strongly. That suggests there's a small but determined rump of opposition to copyright on principle, but it's under 10 per cent of the public - a figure policy makers (and regulators) can probably ignore. (Particularly when the petitions can't be trusted.)
When asked if they'd pay a fee to access sites such as Pirate Bay, 44 per cent said they would, while 29 per cent would switch to another free unlicensed service.
There's more from the survey elsewhere on the site today. And while the public doesn't care much for freeloaders, the results won't give much cheer to paywall sites or newspaper operations. ®
Sponsored: Minds Mastering Machines - Call for papers now open