Asus EeeTop PC ET2203T 21in touchscreen all-in-one
Full HD and finger friendly
Review Testing touchscreen PCs is always a pleasure but it's especially satisfying when a manufacturer gives you lots of display surface to tickle. In the case of the ET2203 model of Asus' EeeTop (named by a Yorkshireman, perhaps?) all-in-one PC, you get a rather splendid 21.6in, supporting 1920 x 1080. That's full 1080p HD resolution. Lovely – especially when using the Blu-ray player.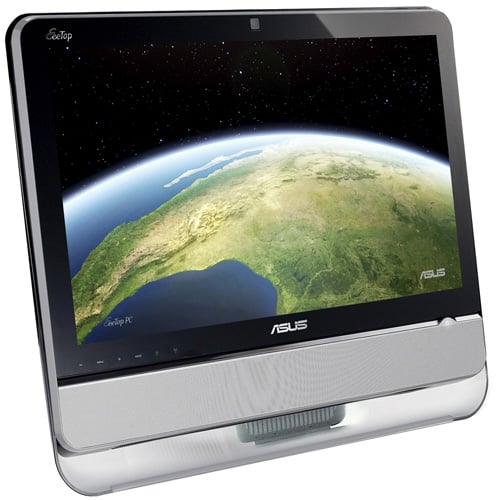 A touching spectacle: Asus' EeeTop PC ET2203T
But first, let's take a tour of the whole machine. This all-in-one is encased in regulation glossy black plastic with a strip of fine metallic mesh across the front that tries to give the impression that it is hiding some natty speakers. The speakers, by the way, are loud but the audio quality is inevitably tinny.
A clear plastic stand raises the unit an extra couple of inches from your desktop. It's a trivial thing, perhaps, but the concave shape of the stand leaves a ledge under the main body of the unit that might help as a grip if you need to carry the computer from one room to another.
In addition to a power button, the flush front fascia incorporates a row of icon LEDs below the display. Two of these indicate hard disk activity and a successful Wi-Fi connection; the others are touch-sensitive buttons for controlling the on-screen display, plus a 'Home' button for accessing the Windows 7 Desktop. These controls made it simple to reduce screen brightness significantly, which is not something that can be said for many Windows 7 (or Vista) all-in-ones these days.
A webcam and microphone are also built into the front, just above the display. Connectivity ports are distributed between the left-hand side and the rear of the unit. Asus sensibly located the audio sockets at the side, along with a couple of USB ports and a multi-format media card slot. Another four USB ports are located at the back, along with a gigabit Ethernet port and an HDMI socket for connecting the ET2203 to a games console, media player or Sky HD+ box.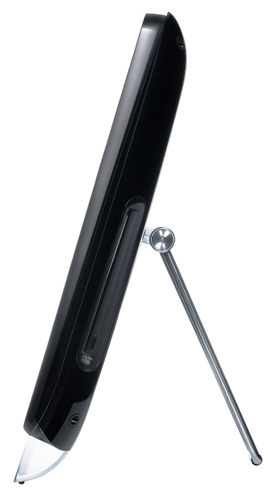 The tray-loading Blu-ray drive pops out from the right-hand side
Wi-Fi supports 802.11b/g/n and I would expect nothing less of any new computer coming onto the market. The rear prop stand is sturdy, allowing you to lean the computer back 12-27 degrees and features a cutaway hole to allow cables to pass through – but this probably won't be necessary.
Sponsored: Minds Mastering Machines - Call for papers now open