Pentax Optio W90 rugged camera
Whatever the weather
As before, it's worth pointing out that a decent, magnesium-alloy camera such as the Canon S90 is likely to withstand more than its fair share of punishment, even if it doesn't say so on the tin. It will also take better pictures and gives you a full manual mode to boot.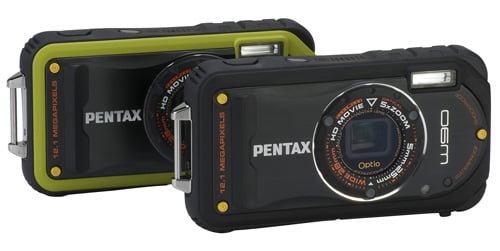 Lightweight, versatile and takes the knocks too
The W90 is an interesting blend. It might not take the best images, but many will consider this a compromise they're willing to make considering the build quality and the possibility of underwater photography.
Verdict
In terms of whether you should get this or the Olympus 8010 the choice is fairly clear: the 8010 has a higher Mp count, is more expensive, bigger, and heavier, so the Pentax Optio W90 is a good choice for anyone who wants a reasonably good camera that will survive most calamities.
More Waterproof Camera Reviews…

Olympus
Tough 8010
Canon
Powershot D10
Casio
Exilim EX-Z75
and EWC-10 case
Oregon Scientific
Action Cam ATC3K

Pentax Optio W90 rugged camera
Small, tough camera for those who want to integrate photography into their existing hobbies, rather than vice-versa.