Advertisers set iPad pester-standards
Eye-assault levels fixed
The Mobile Marketing Association reckons iPad adverts can be up to 900 pixels across, but still shouldn't be more than 40KB to download.
The latest white paper from the Mobile Marketing Association (pdf) points out that screens have grown bigger since September last year, so now adverts might like to take advantage of Extended Ad Units that can fill an iPad screen properly.
The recommendations are intended to provide a common language for those buying, and selling, advertising space. The original specifications (pdf) covered mobile adverts up to X-Large which are 300 pixels wide, so the new standards start at 320 pixels and ramp up to cover an entire iPad screen.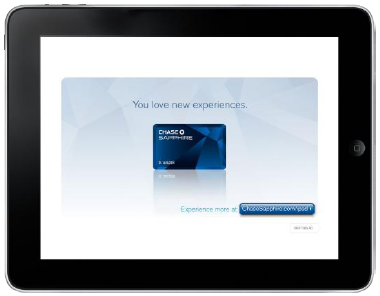 ...but do you love full-screen adverts on your iPad?
But despite the size the MMA still reckons a banner advert should be less than 7.5KB, while a full page can run up to 40KB and is allowed to be twice that bit if it contains "Rich Media". Those numbers seem admirably conservative to us, and we hope to see broad conformance though when an iPad version of Wired comes in at 500MB we're not optimistic.
Mobile advertising is a rapidly growing business: the MMA reckons that advertising on Android has been rising by 77 per cent every month during 2010, and even RIM has been increasing 10 per cent every month. We don't know what the figures are for the iPhone, but they must be comparable, which is why Apple et al are so keen to get involved. ®
Sponsored: Minds Mastering Machines - Call for papers now open