The best feature of the game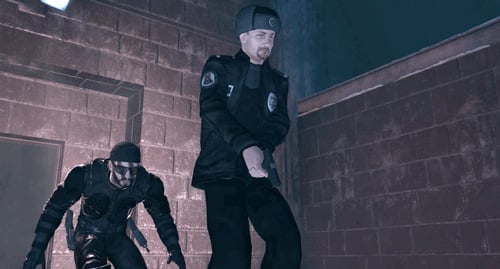 "Watch my back" Urm.. Okay
The story is perhaps the game's best feature, with the contemporary setting offering a welcome sojourn from the dungeons and magic of regular RPGs. As Michael Thornton, you are a government agent embroiled in a plot to destabilise the Middle East so that a weapons manufacturer might profit from a fabricated war. Bearing all the hallmarks of the genre, the branching narrative and decision system allows you to align yourself with particular individuals and local and global factions.
Actions and interactions are critical in determining progression. Spare an arms dealer's life, for example, and he'll repay you with cheap weapons and intel. But in doing so you'll fall out of favour with some agencies and witness the consequences of your actions, as you watch the news report detailing how his weapons killed US service personnel.
Conversation is equally important. Using a Bioware-style system of dialogue branching, you can enhance or damage your standing with the game's many characters. Although its effects are as subtle as those in Bioware's games, its mechanics are not. The few seconds afforded to choose your response would alone prove difficult enough, but the choices are often vague single words like "Thrill", which leave you unsure what you'll actually be saying.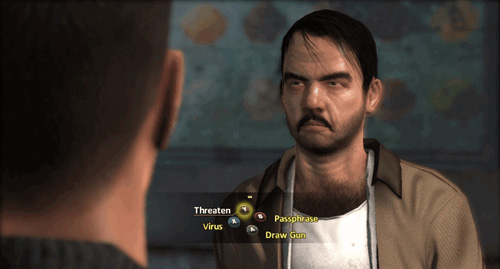 Threaten to draw your gun and give him a virus?
COMMENTS
Heartfelt plea
Please, pretty please, try to remember to include the PLATFORM in game reviews. If not for the throwaway criticism about keyboards and mice, there'd be nothing here at all to tell you this game was available on the PC.
Put it in the green highlighted bit, on every review page. The platform. Please. It really is that important.