Gadget tax needed 'to save US newspapers'
The FTC does the sums. And they don't add up...
Beware, anybody working in music or movies industries who thinks a levy - one that raises a little pot of money - will save the day. Newspaper tycoons got there first and parked their backsides in the little pot, and won't budge.
They'll be able to do so because politicians still fear what newspapers say about them, and they don't fear what Hollywood or music industry can throw back. Do you think Dizzee Rascal is knocking up some rhymes about the abolition of Capital Gains Tax? If he did, would anyone buy it? I see a couple of hands, but not a Top Ten hit.
When it comes to the barging to the front of the queue for handouts, newspapers will always have the upper hand. Levies are simply indiscriminate stealth taxes, and in Spain I'm told it was the introduction of a levy on consumer electronics that became the lightning rod for resentment.
The levy transformed Spain, where there's no legitimate digital music market, into a cheerful nation of freetards. Now nobody pays for online content, and IDC estimates piracy losses add up to $12bn a year. Not so stealthy then. And not a lot raised.
The message is: be careful what you wish for. And pay close attention to what's happening in the US. There, the telecomms competition regulator the Federal Trade Commission has been conducting some workshops on the future of newspaper content.
The resulting draft discussion paper chews over several ways of helping the newspapers, which have already received a few useful 'hand-ups' from Government. Since 1970, newspapers have been given an antitrust exemption, enabling them to run as monopolies, or as duopolies with Joint Operating Agreements (JOAs). The result has been as stultifying as you would expect.
Among the hand-outs discussed are establishing a 'journalism' division of Clinton's AmeriCorps community service program, increasing funding of the Corporation for Public Broadcasting and a tax form tick box giving taxpayers the option of donating up to $200 to the "non-profit media organization of their choice".
You may call it charity, but the FTC calls them "Citizenship News Vouchers" and ponders whether this "could be structured to apply to commercial, as well as non-profit, news entities". Corporate welfare, in other words.
Another idea is to funnel grants to universities. Amazingly, there are still 200,000 journalism "and mass communication students" in the US. If just 10 per cent of those did real journalism (as opposed to reading about it), the FTC muses, that would make up the number of jobs lost in the professional news sector.
The FTC also mulls piping some of the $700m spent on the Cold War propaganda channels Voice of America and Radio Free Europe - yes, they're still going - on domestic coverage. Take out the recycling.
But the contentious part comes from how the revenue will be raised. The measures outlined above might cost $35bn a year. Tax breaks on spectrum (not applicable to newspapers, obviously) might be worth between $3bn and $6bn. A three-cent a month tax on phones might generate another $6bn. And a tax on consumer electronics would raise $4bn.
So that's not a lot of money. But a lot of angst for consumer electronics purchasers.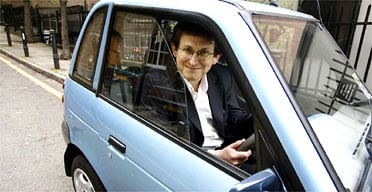 The only UK newspaper business to call for tax handouts so far has been, perhaps unsurprisingly The Guardian, which loses £100,000 a day. The Times and Sunday Times papers lose twice as much, Dan Sabbagh notes here.
But the difference is that one of the two newspaper groups has something that might be called a revenue strategy. Murdoch wants people who read to actually pay for it. The Guardian thinks this notion is not in the spirit of the times - take a deep breath:
… a trend about how people are expressing themselves, about how societies will choose to organise themselves, about a new democracy of ideas and information, about changing notions of authority, about the releasing of individual creativity, about an ability to hear previously unheard voices; about respecting, including and harnessing the views of others. About resisting the people who want to close down free speech.
So says Alan Rusbridger.
That's as may be, but he's still asking taxpayers to bail out a business that refuses to help itself, and that's pretty cheeky even in normal times, with a sympathetic administration. These aren't normal times, and the Government isn't particularly sympathetic. It cut public sector recruitment advertising this week by 60 per cent. ®
Download the draft here (pdf, 340kb)..
Sponsored: Minds Mastering Machines - Call for papers now open