Force10 adds rack-topping Gigabit switch
Fat buffers for virt servers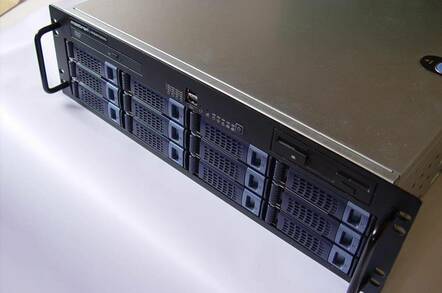 Force10 Networks has been flattening out and speeding up networks since its was founded over a decade ago, and today it is fleshing out its product line with a server virtualization–friendly top-of-rack Gigabit Ethernet switch called the S60.
There are plenty of Gigabit Ethernet switches out there, but Steve Garrison, vice president of marketing at Force10, says his company has studied the issues involving switches that cope with virtualized server network traffic and figured that there was room for one more with some different features.
While 10 Gigabit Ethernet switches are getting traction, in the top-of-rack (ToR) area — which Garrison says is the hot spot in the data center these days as companies begin to think at the rack level, not the individual server level — it is plain old Gigabit Ethernet that has the lion's share of the market, with over 90 per cent of ToR switch ports shipped in 2009, according to stats from networking-market watcher Dell'Oro Group.
Companies are deploying Gigabit Ethernet switches at the tops of their server racks, but the problem is that the increasing utilization of servers creates "rogue waves" on the network ports that can quickly swamp Gigabit Ethernet switches. The more VMs you add to a server, which is made possible by the addition of more CPU cores, memory, and I/O bandwidth in the iron, the better chance you have of creating a rogue wave of server traffic that can overwhelm the switch.
A port coming out of the server and going into the switch might burn only 10Mb/sec of bandwidth supporting two virtual machines, but when you push it up to four to ten VMs, you're talking somewhere around 200Mb/sec with spikes that get a bit higher than that, and once you are up to 20 VMs you're pushing Gigabit speeds with spikes that can be significantly higher due to the "bursty" nature of multimedia and storage applications running in the data center these days.
The fix for congestion is not necessarily to move to 10 Gigabit switches, according to Force10, but rather to push line rates in a Gigabit switch and give the device ultra-deep buffering to cope with those momentary rogue waves on the network.
That's what the S60 switch does. The switch comes in a 1U chassis with 44 ports (which support 10Mbit, 100Mbit, and Gigabit speeds) and four SPF+ Gigabit ports, as well as offering two high-speed expansion slots for adding up to four 10 Gigabit uplinks or stacking interfaces. Up to twelve S60 switches can be stacked, lashed together, and managed as a single switch.
The S60 has front-to-back airflow and redundant power supplies (AC or DC), which data centers want these days, and only burns 156 watts, which is a lot less than competing ToR switches — many of which are 10 Gigabit products, admittedly.
The S60 also has 1.25GB of deep packet buffering, which compared favorably to the 768MB in Arista Network's 7048 switch and the 16MB in Cisco Systems' 4948-10GE switch. The Force10 Operating System (FTOS) inside the switch can partition up the packet buffers on the fly and allocate more or less buffer to specific ports as traffic conditions require.
The S60 delivers 120 million packets per second of forwarding capacity and has a switch fabric capacity of 136Gb/sec, too, which is on par with other switches topping off racks.
The S60 top-of-rack switch is being tested at 17 hyperscale customers now and will begin shipping on June 30. The base unit (not including uplinks and stacking modules) costs $10,595. ®
Sponsored: Minds Mastering Machines - Call for papers now open