MSI Wind U160
Nifty netbook
Around the edges of the machine are three USBs, Ethernet, external monitor, mic, headphone and SD card slots. There a convenient wireless on/off slide switch, too, if you're particularly power-conscious, though battery life isn't really a problem on the Wind U160.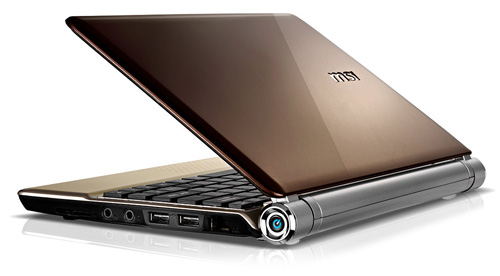 Respectable battery life gives it an edge
The 5800mAH, six-cell battery is strangely arranged at the back, moulded in as a separate cylinder below the lid hinge, which lifts the rear of the machine up. While this improves the typing angle, it also makes the machine 45mm thick.
This adds up to nearly twice MSI's claimed thickness of 1in/25.4mm – so it's more awkward to fit in bags and cases. If the 'battery cylinder' swivelled round to the back of the hinge, it could be used as a keyboard stand, but still slide out of the way for carrying.
Bundled software includes Works, 60-day trails of Office and Norton IS, ArcSoft support for the built-in WebCam, which can take 5Mp stills and 640 by 480 video, and a child-friendly collection of sites and games, called Kidoz.
MSI claims Windows 7 Starter Edition as the OS, though the review machine came with Windows 7 Home Basic, which is only supposed to be available in emerging markets. MSI confirmed Starter will be supplied in the UK.

However, it's not the neatest battery arrangement
Talking of software, don't you get fed up with everything wanting to update, even on a 'brand new' machine? Just about every app I tried went through this cycle on the Wind U160, including multiple Windows 7 refreshes and even the little ArcSoft WebCam Companion.