iPeds, iRobots, and the Chinese iPad clone machine
Plus: the Nigerian connection
Surprising no one, iPad clones are sprouting up in the IP rip-off capital of the world — China — including one charmingly and thoroughly unimaginatively known as the iPed.
Apple's iPad escaped across the US border Friday and landed in the UK and eight other countries. If — when? — it arrives in China, it will find an army of low-priced, homegrown tablets awaiting it.
For one, there's the iPed, which we were alerted to on Friday by Gawker Media's Kotaku, which discovered the iPed on a Japanese website whose name Google Translate renders as Image Bedding bath & Video News," and which posted the following Japanese TV news report on the iPed:
The iPed's packaging is a near-perfect rip-off of Apple's iPad box, down to the iPhone OS–style icons on the illustration of the tablet. A close inspection, however, shows that the iPed's iPod app's name is — you guessed it — iPed, not iPod.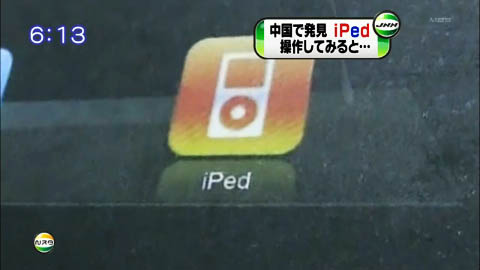 What a difference an 'e' makes
Although our Japanese is far too weak to understand the two newscasters, Kotaku claims that the iPed's processor is from Intel. The video does make it clear, however, that the iPed is Android-based.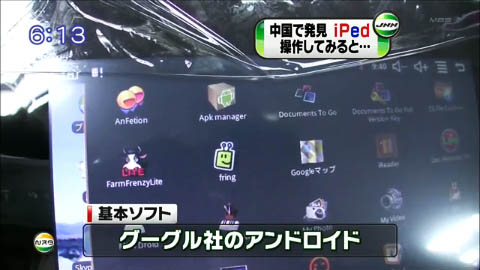 Familiar-looking Andoid icons grace the iPed's display
During the TV spot there's a shot of the iPed's manual, which is titled "APad: 7" Touch Screen MID Entertainment and Internet Device." Interestingly, there's another Chinese iPad rip known as the Apad — well, its full name is actually "Apad (Same As Ipad) Android Os Wifi 7.0 Inch Touch Screen G-".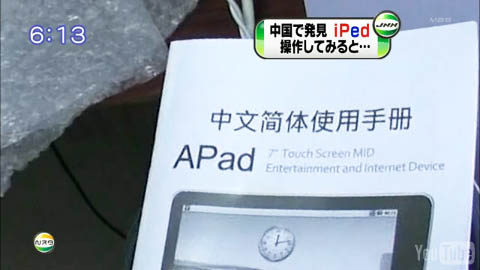 What a difference an 'A' makes
IBb&VN also notes that the iPed is manufactured in none other than Shenzhen, China, the home of Foxconn, the manufacturer of Apple's iPad and iPhone. Might as well steal locally, one assumes.
Although the iPed borrows heavily from the iPad's industrial design, it doesn't emulate Apple pricing policies. The Japanese TV hosts note that the iPed runs ¥9,600 ($105, £73), while the iPad is available in Japan starting at ¥48,800 ($536, £371).
The iPed, for all its low-budget attractions, is not to be confused with the Moonse e7001, also branded as the iRobot - which you can pick up at the online retail outlet JTShop for $185. Far more is known about the iRobot — which, by the way, also apes Apple's iPad packaging, but less blatantly dishonestly than the iPed.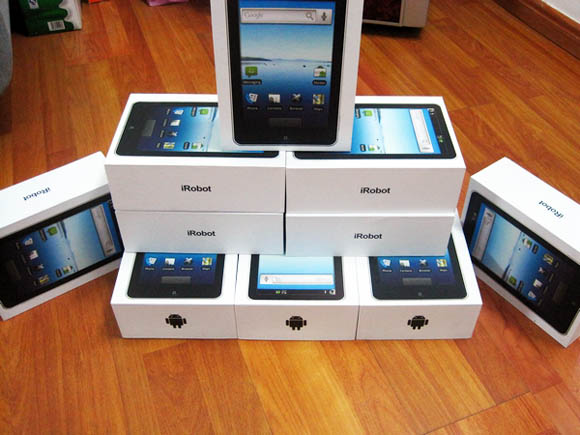 It's not difficult to guess which operating system a mobile device named 'iRobot' would run
The Moonse e7001/iRobot is a seven-inch tablet that runs Android 1.5, and it's powered by RockChip's most recent mobile multimedia processor, the RK2808. It's available in a variety of RAM configs, and according to andoidpads.com, it can be had for around $130 to $250 (£90 to £173). All in all, it also appears to be a somewhat slicker device than does the iPed, as this video shows:
Finally, not all iPad imitators come from China. Did you hear about the $399 Encipher Tablet, available only in Nigeria, and which looks suspiciously like a clone of the Moonse e7001/iRobot?
The plot thickens. ®
COMMENTS
So...
...the fakes have USB, video out, can run Flash, multi-processing, are based on a truly open platform and al for a reasonable price.
Which one is the rip-off again?
you cant rip off IP if it doe not, exist, just look at USA where the whole IP issue has gone mad!,
thank the Chinese for being smart enough and ignore stupid IP laws and continue to innovate
e7001
The e7001 actually looks quite good from the video overview. Archos will have a tablet out soon with similar specs, but it wont have feature parity with the e7001. The market is certainly getting more interesting now people are beginning to realise Apple might not be the one-true-way™
Small point
"IP rip-off capital of the world"
Yes and no. Leaving some of the more debatable parts of IP that American companies love to protect, copyright is simply thought of differently in China. Anyway, if a company is that worried about this thought of thing happening then they shouldn't source their products there just "because it's cheap".
At the moment Apple is probably happy to think of "imitation as the highest form of flattery" with these underpowered devices. A faster chip and a smoother interface and you can see why they are going after HTC.