Spare Backup CEO switch coming
Make money or else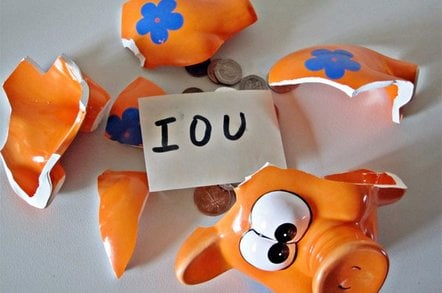 Cloud backup provider Spare Backup is trying to get a new CEO, Stephen Meyer, who is currently helping the company with capital formation. Cue bells ringing and the alert button going bananas. What is going on?
The quarter's revenues were $546,242 but there was a net loss of $2.54m. The annual results are more painful to look at. In 2009 Spare Backup revenues were $2.69m while its net loss was $10.57m. The corresponding 2008 numbers were $1.38m revenue and a net loss of $15.13m. Roughly speaking, costs are five times revenues. Things are getting better though - in 2008 they were more than ten times revenues. They are just not getting better fast enough.
Spare Backup's SEC 10Q report for the first quarter of 2010 contains this statement: "These matters, among others, raise substantial doubt about the ability of the Company to continue as a going concern."
US-based Spare Backup is a start-up that sells cloud back services through branded retailers, mostly in the UK and mainland Europe, where an unbalanced 89 per cent of it's money comes from. It has built a cloud data centre with costs upfront to support customers who pay the retailer a subscription fee which is shared between the retailer and Spare Backup. In other words it needs a large mass of subscribing customers to provide a revenue stream big enough to pay the data centre infrastructure and running costs, and it hasn't got one.
Customer subscription payments are trickling in and data centre costs are gushing out. Spare Backup is burning cash much faster than it's coming in.
Part of the reason is that virtually all of it's customers are in Europe, particularly the UK. It had an early success in the UK with Dixon Stores Group which went sour, and now has two big wins there with Comet and Carphone Warehouse. There are no equivalent customers in the USA where competitors like Carbonite, EMC's Mozy, Symantec and others have more traction, more capital, more brand recognition, and more technical and marketing resources.
Mozy is in Europe too now and life is getting tougher.
Spare Backup's crazy background
Spare Backup has an almost unbelievable background for an IT storage company: real estate development. It started up at the end of 1999 as First Philadelphia Capital aiming to buy into other businesses and do mergers, acquisitions, and whatever it took to make a profit. It combined with a Florida real estate holding company called Conservation Anglers Manufacturing Inc in October, 2000, and changed its name to Newport International Group in January, 2001.
There were various commercial real-estate transactions and then a merger in February 2004 with Grass Roots Communications Inc, which was involved with multimedia communications over the internet. Its president and CEO was Cery Perle who became Newport International CEO, replacing Soloman Lam, the original CEO.
Sponsored: Minds Mastering Machines - Call for papers now open