Regent Street blocked by iPad fanboi swarm
Nice day for queueing
Fair play to Apple - they might be turtleneck-wearing control-freaks but they run a lovely queue.
Several hundred fanbois and at least one fangirl were queuing up this morning to get their hands on an iPad. The line stretched from the Apple shopfront on Regent Street all the way round the corner onto Hanover Street.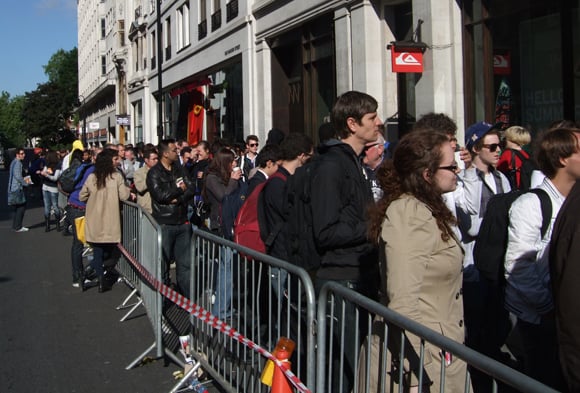 And around the corner it goes...
The few we spoke to had been lined up since 6.30am with only their iPhones to keep them happy. The first man to actually buy an iPad had been waiting since midday yesterday.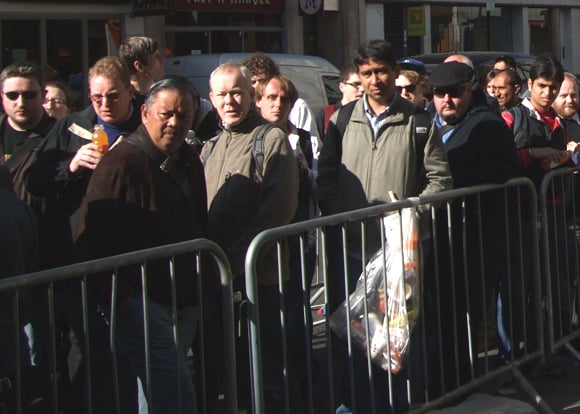 Fans anticipate the joy of iPad ownership
An Apple staffer was handing out bottles of water to iPad-less refugees. He said his hands were hurting from clapping and his voice hoarse from cheering - he'd been working since 6am.
Passers-by, police and office workers looked on with bemusement.
PS - please email us your experiences, and pictures, if you've been joining the multitudes...®
COMMENTS
Now that they are all in one place...
... line up the padded wagons. Or how about a cull?
Time to buy...
After following this for a while and weighing up the pros and cons of owning an iPad as well as an iPhone 3G, I popped off to the shops...
I came back with an HTC Desire.
It does everything that I wished my 3G would do/would want the iPad to do, and gets Flash in there as well. Ok, the screen's smaller. But my eyesight is 20/20, so I don't care.
I'm fed up with my 3G, nothing about the 4G has left me expectant, features of OS 4.0 (whatever device) have left me underwhelmed and if Apple's controls tighten anymore they'll be taking my calls and pre-screening my contacts.
Bye Steve. It was a fun 2 1/2 years, but the relationship's not working anymore. It's not me, its you...
Or just go to a shop.
Picked on up at Currys this morning. No queue (well three people) and they seemed to have good stock of all the models.
The staff had all been instructed to clap though, which was a little awkward. Erm.. yeah, thanks, you didn't clap when I bought a washing machine last month.
A friend of mine had one yesterday...
...and I've been irritating the shit out of him by refusing to acknowledge it as a computer, merely as a fashion accessory.
I mean, it's a lovely fashion accessory but so is a Gucci handbag.
I'm sure
I'm sure that 90% of those queing up have no real idea what they'll use it for.