Final Fantasy XIII
360 vs PS3
Square Enix took the scalpel to its Crystal Tools engine...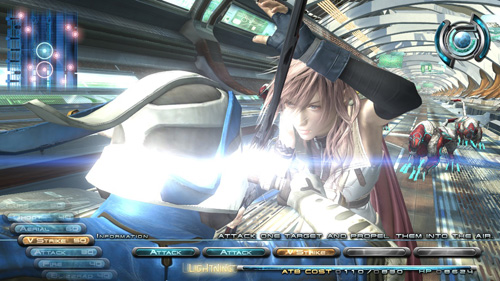 Strrrriiiiike!
There is very little outside the main linear story in the way of side quests until after you've finished: this is disappointing. [Although I admit I've done most of the mini quests, mostly so I could get me a Chocobo.] There was none of the kind of patented RPG wandering around towns talking to people trying to find that one who would tell you what the hell you were supposed to be doing and I found this refreshing. Commerce is handled by interacting with regularly spaced mini robot terminals through which you can buy, sell and save your game in a futuristic internet shopping experience.
Consoling
Playing this game on the Xbox was a touch disappointing. After the PS3, it seemed like a stripped down version of its rival console's game play and visuals. Lack of resolution makes the 360 version look shabby upscaled to 1080p. The razor sharpness of the PS3 visuals - even when there is loads of motion - has been compromised on the 360. Don't get me wrong, it still looks good, but considering Final Fantasy has its bedrock in stunning CGI, it's just not good enough.
Square Enix obviously took the scalpel to its Crystal Tools engine to translate Final Fantasy XIII across to the Microsoft platform. I feel sorry for whoever had the job of compressing 32GB of CGI to fit three Xbox 360 DVDs around 7GB. I think this was only possible because the game is extremely linear most of the way through.
The encoding that has been used for the compression of the data to take this game cross-platform isn't really as good as it could be. It leaves the environment and enemies with noticeably less detail in texture; strangely this seems to affect the characters clothing more than their features. But if you can live with this, which I am sure 99 per cent of people who only own a 360 can, the game is still worth it. However, if you have both consoles at home, there really is only one choice: PS3.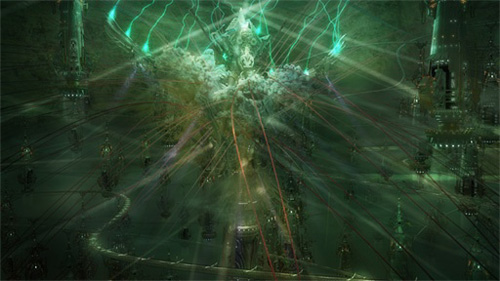 The main hub at Google
Sponsored: Minds Mastering Machines - Call for papers now open