Universal Tech MyXerver Pro MX3800
World's first wireless Nas, apparently
This inevitably had a negative effect on our benchmark tests of the 250GB hard disk, which struggled to achieve 10MB/sec write and 20MB/sec read throughput as a result. A Buffalo LinkStation 1.5TB Nas drive with gigabit Ethernet performed more than three times better.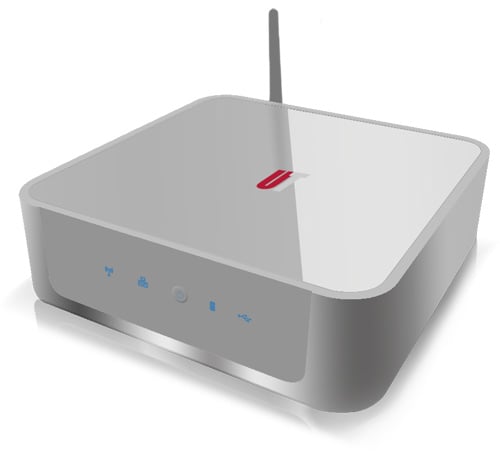 Status lamps at the front indicate how you are connected and whether the hard disk is running OK
Talking of speed, note that the MyXerver Pro MX3800 supports 802.11b/g wireless standards, but not N. This is a pity since all the newest wireless products support N, as will the next generation of home media centres. Universal Tech's decision to settle with wireless standards that may be considered 'legacy' by the end of this year is disappointing.
More usefully, the unit is fitted with a pair of USB ports at the back instead of the customary single port. This allows you to use the Nas as a network Windows print server by connecting a USB printer to one, while keeping the other free for making regular backups to an external USB disk drive.
Even though we found the web-based configuration utility a bit challenging at times, there's no doubt the MyXerver Pro is packed with useful network features. For example, you can set up the Nas simultaneously as a local file server and Internet-accessible FTP server. Those installing the Nas for home use will appreciate the uPnP media server support for the widest range of media players, a built-in iTunes server, and even a virtually self-working web-based photo album utility.
In common with many other Nas products aimed at small office and home networks, the MyXerver Pro MX3800's firmware incorporates a Bittorrent downloader. This makes it possible to initiate large and potentially slow file transfers within the device's web-based utility and then leave the Nas to complete them independently of your computer, or even with all your computers on the network shut down.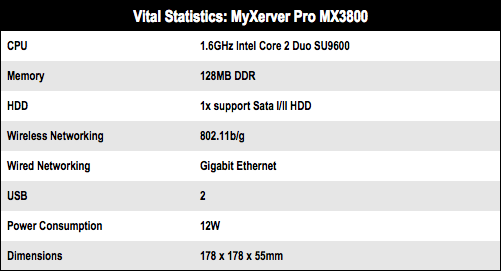 Sponsored: Minds Mastering Machines - Call for papers now open