Samsung Monte smartphone
High-end pretender
There are three front buttons – Call, End/power off and sitting between them, a large back button. I'm used to the central button being a navpad, menu or a select key, but it works quite well as a back button and there's a menu button on each of the three home screens alongside one for the Phonebook and dialler keypad.
While the capacitive nature of the screen might draw you, there's no multitouch support. The 3in screen at 240 x 400 pixels it isn't really large enough for media rich Web browsing even when you flip it to view in wide mode. The one-finger zoom system leaves a something to be desired too. It involves hold a finger on the screen till plus and minus markers appear, then dragging up to zoom in and down to zoom out. I found it a bit hit and miss.
Surprisingly, you don't get a Qwerty keyboard for text entry even in wide screen mode. There's just a T9 layout, which makes something of a mockery of the Exchange ActiveSync support – nobody is going to want to tap out work emails on the Monte.
The Monte runs TouchWiz 2.0 Plus. A key feature of this over earlier versions of TouchWiz is that rather than having a slide out panel for dragging widgets onto each of the three main screens there is a small icon a the top left of the screen which you tap to pull up a two icon deep scrollable menu. You drag widgets from this to the screen.
Widget icons are large and you'll be lucky to get more than three on any screen. To remove widgets you have to call up the widget menu and drag them onto it. It's more fiddly than the simple drag downwards option that Android offers.
The Monte is being sold as big on social networking, and there are widgets for Facebook, Twitter MySpace and the soon to be defunct Bebo. The widgets are a bit small to be of much use. The Twitter one, for example, shows a little bit of info from a single tweet, but to see more you need to tap the widget to click through to a full screen client.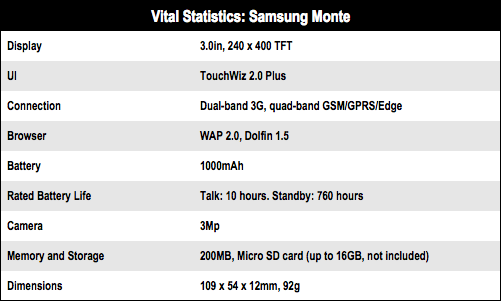 Sponsored: Minds Mastering Machines - Call for papers now open