Honda CR-Z sporty hybrid e-car
Miserly with fuel, entertaining to drive
Electric only propulsion is possible at steady speeds below 30mph, though getting the drive indicator to show battery power only is more of a game to play with yourself in heavy and slow motorway traffic than a serious way of driving day-to-day. Even when the CR-Z is powered by the battery pack, the engine still turns over so progress doesn't suddenly become eerily quiet.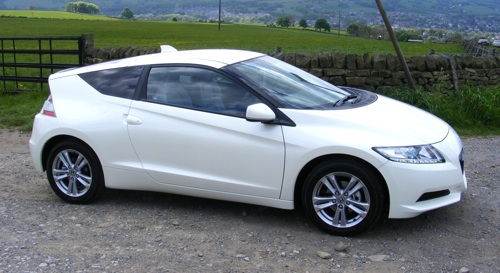 Excellent road holding - but watch out for potholes
To enhance the CR-Z's sporting credentials, Honda has stiffened the body shell and the suspension, as compared to the Insight. The upside is excellent road holding and a car that will change direction on a dime. The downside is a pretty rotten ride on broken or undulating road surfaces.
An energetic drive up the B6160 between Addingham and Grassington in Yorkshire had me grinning, but is also had me lowering the seat to keep my head from hitting the roof lining when the going got rough.
The CR-Z range starts at £16,999, though the extras-laden and metallic paint-clad car I tested will set you back £22,179. That starting price is only £700 more than the cheapest Insight which makes Honda's target of selling equal numbers of the two models seem reasonable. If I was a betting man I'd say the CR-Z will prover to the stronger seller of the two.
Verdict
As a package, the CR-Z is more convincing that its five-door Insight sibling. The free revving engine, sporty suspension set up and arresting styling make it a car that needs no hybrid excuse to exist. A car that can play miserly fuel sipper about town and entertaining sports coupé out in the country will appeal to many. ®
More E-Car Reviews

Honda
Insight
Toyota
Prius
Mitsubishi
iMiEV
Sponsored: Minds Mastering Machines - Call for papers now open

Honda CR-Z sporty hybrid e-car
A hybrid sports coupe that satisfies both the Road Warrior and Tree Hugger in you.