Israelis build floating electric hover platform
Only snag: Needs to be plugged in on the ground
Israeli war-tech engineers are planning to build electrically driven hover platforms which would float like balloons tethered to ground- or vehicle-mounted energy sources by long power cables.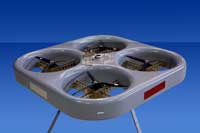 Uh-oh! Power cut!
Flight International reports that the machines have been dubbed electric tethered observation platforms (ETOPs), and stay aloft on vertical thrust delivered by electrically-powered ducted fans.
Apparently an ETOP will need no operator or pilot to keep itself airborne, and it can stay up more or less indefinitely provided power is maintained to the tether umbilical. It can cope easily with being towed around by a base station mounted on a ground vehicle, or alternatively maintain position above a fixed base.
The ETOP being developed initially has a payload of up to 20kg and is able to lift this and its power tether to heights of up to 100m. Israel Aerospace Industries, developing the ETOP, told Flight yesterday that 10 test flights have been carried out and two prototype craft are in operation. The firm expects to have the system ready for employment as of 2011.
ETOPs would presumably be used mainly as surveillance and communications platforms, offering line-of-sight over a larger area than a base or vehicle could normally command. They should be close to silent in operation themselves, though there would normally need to be an engine or generator running at the bottom of the tether if grid power was unavailable.
If successful, such platforms might be a rival to tethered aerostat balloons, currently in use for similar purposes by several nations. An ETOP would be much less conspicuous than a corresponding aerostat, but would demand a lot of power. Its biggest weakness would seem to be the comparatively heavy tether, which would be likely to restrict operating altitude badly.
The Flight report is here. There's more on the ETOP from IAI here; the company expects to exhibit the machine at next month's Eurosatory expo in Paris. ®
Sponsored: Minds Mastering Machines - Call for papers now open