A row of LEDs sitting across the top edge of the keyboard look as if they are just status indicators but they are actually touch-sensitive function buttons. These can be used to play and pause media playback, for example, or adjust volume. Having them illuminated in this way is extremely useful in the dark while delivering a presentation. One of these buttons illuminates a little strip lamp next to the trackpad. I wish there was one for backlighting the keycaps.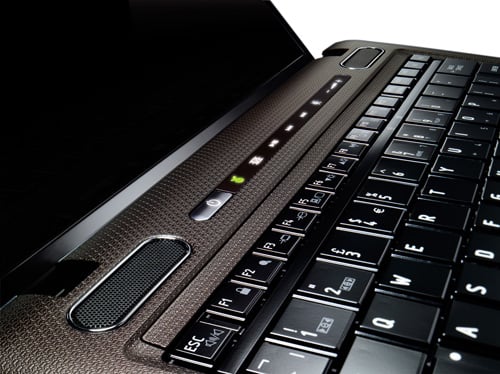 Some of the LED indicators act as touch-sensitive enabling buttons
Another of these buttons switches the unit into Eco mode, which, as far as I can work out, dims the screen and probably powers down parts of the hardware when not in immediate use. However, Eco mode did not seem to reduce power usage by much when the unit was plugged into the mains. The computer drained between 45 and 65W in normal usage, 20-35W while idle, and dropped to 0.5W when switched off, or 0.6W in Hibernation mode.
Stereo speakers are built into the unit, one at either end of the row of touch-sensitive LEDs. The audio is loud but inevitably tinny. The 1280 x 800-pixel screen is bright and feels a good size. However, it suffers from a kind of grainy/sugary quality, which I find distracting.
The display is a touchscreen that supports Windows 7 multi-touch gestures. This lets you scroll through documents, manipulate files, zoom in and out, and generally operate your computer by touching the display instead of (or as well as) using the trackpad or an external mouse.
The Satellite U500-1EX requires a firm touch, which means you have to keep hold of the unit to stop it from toppling backwards. The first few times I tried the touchscreen functions, the notebook rocked back and forth on my desktop and kept triggering Toshiba's HDD Protection, parking the hard disk read heads automatically for safety.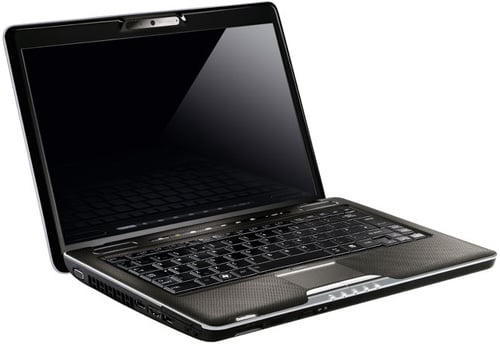 Using touchscreen gestures can cause the whole unit to tip backwards
While stuffed with such useful utilities and other bundled software, the test unit is not so well endowed with touchscreen applications: all you get is Microsoft's Touch Pack for Windows 7. Including the likes of MS Blackboard, Garden Pond and Surface Globe, the Touch Pack is just a bunch of screen toys rather than programs I would want to use on a daily basis.
COMMENTS
@Steven Knox
Which distro to pick is of course a concern but that's a separate issue. El Reg needs to come up with a policy on that
Fugly
...and expensive. and only 2 USB ports?? No thanks!
No trouble at all...
For one distro. But what if they did it with, say, Knoppix, and you're, say, an Ubuntu fan? Do they just test if the distro will boot, or do they test each and every hardware module for compatibility with each app that uses it?
This is a review of hardware as delivered. The laptop was delivered with Windows 7, so that's what they tested. To test everyone's favorite OS would not be a good use of their time.
I love Linux, but I'll go to a Linux- (and preferably distro-) specific site for reviews of hardware compatibility with it.
No mention of Linux
Surely it's not too much trouble to throw in a Live disk and tell us how this hardware fares with the Linux distro in question?
Fail...
They almost had me until there were two significant failures:
1) Deaf touch screen requires too much force.
2) 100Base-T instead of Gig-E?!
My three year old Lenovo has Gig-E.
Bob